Eliud Kipchoge has given an explanation of the benefits of super shoes and their importance in marathon running.
Super shoes have become the subject of heated debate recently after Tigst Assefa's and Kelvin Kiptum's world record triumphs at the Berlin Marathon and Chicago Marathon respectively.
Ethiopia's Assefa wore the Adizero Adios Pro Evo 1 which will reportedly retail for around £400 which is approximately Ksh 72,000, and are reportedly only designed to last for one race. Assefa clocked 2:11:53 to completely destroy Brigid Kosgei's world record time of 2:14:04.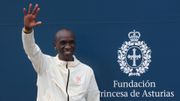 Marathon king Eliud Kipchoge has shared his thoughts on what success is.
On his part, Kiptum wore a prototype Nike shoe which World Athletics has approved for developmental use under 'NikeDev163'.
Wearing the shoes, he completely destroyed Eliud Kipchoge's world record time of 2:01:09 that he set during the 2022 Berlin Marathon. Kiptum clocked 2:00:35 to win the race.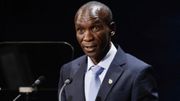 Eliud Kipchoge has taken to his X handle to explain what it means to receive the Princess of Asturias Award.
However, there is a lot of mystery surrounding the actual details of the shoe but it is seen as Nike's next version of the Alphafly. It was reported that the shoe was also won by Eliud Kipchoge on his way to clinch his fifth Berlin Marathon title.
To clear the mystery surrounding the expensive super shoes, Kipchoge explained that the shoes prevent direct impact from the tarmac to the muscles of the individual running.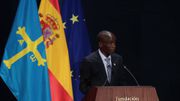 38-year-old Eliud Kipchoge believes he has all it takes to run fast times going forward despite the rise of young marathoners who are keen on dethroning him.
"The super shoes actually prevent real impact from the tarmac to your muscles. The aim of running is to take care of the muscle and the company came up with those shoes to make sure that as an athlete, you are becoming fit and also taking care of your muscles," Kipchoge told Euro News.
The shoes might just be the future secret to great marathon running and having been embraced by top brands like Adidas and Nike, other companies might embrace that.
Follow the Pulse Sports Kenya WhatsApp Channel for more news.