38-year-old Eliud Kipchoge believes he has all it takes to run fast times going forward despite the rise of young marathoners who are keen on dethroning him.
Former World marathon record holder Eliud Kipchoge is not resting on his laurels as he still wants to run faster times going forward despite the rise of other young marathoners including Kelvin Kiptum.
Kipchoge explained that the beauty of the sport is longevity and he wants to achieve that, insisting that he has all it takes to make history again and again.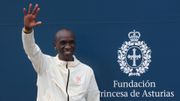 Marathon king Eliud Kipchoge has shared his thoughts on what success is.
His world record of 2:01:09 which was set at the 2022 Berlin Marathon was broken by youngster Kelvin Kiptum who clocked 2:00:35 to win the Chicago Marathon about two weeks ago. The five-time Berlin Marathon champion has made his intentions clear about reclaiming his world record status.
"I'm still hungry to run fast…I'm still hungry to show the world that I can still run fast. I still want to show the upcoming generation that you can run for long.
Longevity is the key to sport, it is the key to any profession. And you know, records are meant to be broken.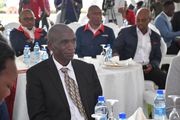 Kenya's marathon great Eliud Kipchoge has earned another cap after being appointed the UNESCO Goodwill Ambassador for Sports Integrity and Values
It just shows the beauty of sport that somebody somewhere is always working hard to achieve something," Kipchoge said.
Kipchoge, a four-time London Marathon champion, has been running for the past 20 years and he is not stopping anytime soon.
He has his sights set on the Paris Olympic Games where he intends to be the first man to win the Olympic Marathon title three times and he believes he has all it takes.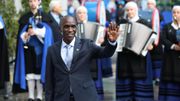 Eliud Kipchoge has finally reacted following Kelvin Kiptum's dominant exploits that saw the youngster break his marathon world record two weeks ago.
This year, Kipchoge opened his season with a sixth-place finish at the Boston Marathon but he later revealed that he had a problem with his left leg.
He then proceeded to the Berlin Marathon where he won the race for the fifth record time, becoming the first man to win five titles in the streets of Berlin.
Follow the Pulse Sports Kenya WhatsApp Channel for more news.