The Kenyan-born Bahraini has beaten Beatrice Chepkoech in all their races in 2023.
Reigning World champion Winfred Yavi has come out to speak on the relationship she shares with the 3000m Steeplechase world record holder.
Yavi has beaten Chepkoech in all the races they have competed in but the Kenyan-born Bahrain still maintains her respect for the National Police Service Officer.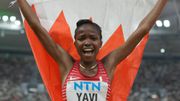 Winfred Yavi changed her nationality to Bahrain in 2017 and she admitted to facing backlash but has since bounced back and is doing better.
She defeated Chepkoech at the Diamond League Meeting in Doha, Qatar, the World Championships, and also the Prefontaine Classic.
The 23-year-old noted that in the sport, things are different and everyone has to work hard to get what they want but they relate as sisters off the track.
"You know, this is sport…however, she is my sister, she is like my big sister. When we go to the track, it's different.
She is my friend off the track and we talk a lot. However, when I beat her I was happy because I got the title but she is my sister," she said as per Mungai Eve Media.
As they head to the Olympic Games next year, Yavi will also be hoping to maintain her winning streak in Paris, France. However, she will not have an easy run since Chepkoech will also be battling to bounce back to winning ways.
The 32-year-old has been battling a series of injury setbacks and competing the whole 2023 season has been a major boost for her.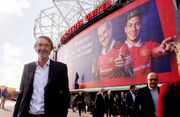 British billionaire Sir Jim Ratcliffe revises bid for Manchester United, intensifying competition with Qatari investor Sheikh Jassim amid Glazers' £10 billion valuation.
Youngster Faith Cherotich will also be in the mix hoping to shine brighter one more time. She has had a stellar season so far and will be hoping to extend the streak to the Olympic Games.