The Kenya national 15s side Kenya Simbas are scheduled to take part in the Victoria and Elgon Cups respectively before the start of the new Kenya Cup season.
Kenya Simbas head coach Jerome Paarwater is pleased to have his squad back for the crunch international assignment in the upcoming Victoria and Elgon Cup competitions scheduled to take place in Kampala between 1st and 5th November and Kisumu on 11th November 2023 respectively.
Majority of the squad that was on duty in the Currie Cup First Division competition has been retained for the matches against Zambia and Uganda with the exception of Samuel Asati, Beldad Ogeta, Elvis Olukusi who are now with Shujaa, Timothy Mmasi who is now playing for Old Blue Rugby Club in the USA and Emmanuel Mulla.
Speaking after announcing his squad, Paarwater revealed that the spirit in the camp is currently very high with the boys excited to be playing with each other for the first time since May in the annual Currie Cup competition.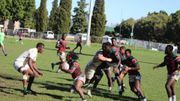 Kenya Simbas could have an easier path to qualifying for their first Rugby World Cup after World Rugby expanded the 2027 tournament.
"The guys are obviously proud and excited to be back in the training camp," Paarwater said. "They are currently training for the Victoria Cup. First game is against Zambia.
"Second game is against Uganda so I think it is good. After the Currie Cup, there was a long layoff. They guys are happy to be together in the squad.
"Most of the guys without injuries they need to play. There's a few guys with sevens currently not with the squad but the rest are all here. We are happy to be here and happy to play.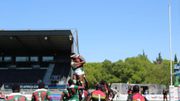 A 38-man Simbas squad is horning their skills in Kakamega ahead of their busy schedule in November.
"We are happy to play before the Kenya Cup also starts so that the guys can finish the international games they have to play so that they can focus on Kenya Cup."
Making a return to the squad is Oilers prop Edward Mwaura as well as the KCB duo of Mike Kimwele and Emmanuel Silungi while Dan Ang'wech (Kabras Sugar), Paul Mutsami (Kenya Harlequin) and Shem Okola (Strathmore Leos) are all in line for their potential debuts.
The squad will be whittled down to 28 ahead of Sunday night's departure for Kampala.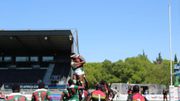 A 38-man Simbas squad is horning their skills in Kakamega ahead of their busy schedule in November.