A 38-man Simbas squad is horning their skills in Kakamega ahead of their busy schedule in November.
The men's national rugby 15s side Kenya Simbas squad is currently in residential training in Kakamega ahead of a busy November that has crucial events lined up for them.
The 38-man squad is gearing up for the Victoria Cup taking place in Kampala from November 1 and 5 and the Elgon Cup taking place in Kisumu on November 11.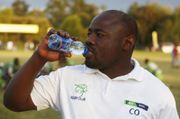 KCB comprehensively thrashed Menengai Oilers to reach the final of the Impala Floodlit Trophy against Nondies for the second year in a row, but Olago remains far from convinced.
Kenya Rugby Union noted that the majority of the squad members were on duty in the Currie Cup First Division competition.
However, some of the members will not be available for the clash against Zambia and Uganda including Samuel Asati, Beldad Ogeta, and Elvis Olukusi who are now with Shujaa.
Timothy Mmasi will also not be available since he is now playing for Old Blue Rugby Club in the USA and Emmanuel Mulla is also a missing key player.
Meanwhile, making a return to the squad is Oilers prop Edward Mwaura as well as the KCB duo of Mike Kimwele and Emmanuel Silungi.
Dan Ang'wech (Kabras Sugar), Paul Mutsami (Kenya Harlequin), and Shem Okola (Strathmore Leos) are all in line for their potential debuts. The squad will be whittled down to 28 ahead of Sunday night's departure for Kampala.
Squad
FORWARDS: Ephraim Oduor (Kabras Sugar), TJ Okidia (KCB), Ian Njenga (Kenya Harlequin), Edward Mwaura (Menengai Oilers), Eugene Sifuna (Kabras Sugar), Teddy Akala (Kabras Sugar), Griffin Musila (KCB), Emmanuel Otieno (Kabras Sugar), Hillary Mwanjilwa (Kabras Sugar), and Wilhite Mususi (KCB).
Kenya Simbas will be hoping to claim both titles as the Victoria and Elgon Cup makes a comeback after a four-year hiatus
Meshack Tunechi (Kenya Harlequin), Ian Masheti (Strathmore Leos), Hillary Odhiambo (Kabras Sugar), David Bunduki (Kabras Sugar), Emmanuel Silungi (KCB), Hibrahim Ayoo (Menengai Oilers), Clinton Odhiambo (Menengai Oilers), George Nyambua (Kabras Sugar, captain), Sheldon Kahi (Kenya Harlequin), Brian Ndirangu (Menengai Oilers), Reinhard Mwalati ( Masinde Muliro), Jeanson Musoga (Kabras Sugar), Peter Waitere (KCB), and Elkeans Musonye (Menengai Oilers)
BACKS: Barry Young (Kabras Sugar), Dan Ang'wech (Kabras Sugar), Brian Wahinya (KCB), Paul Mutsami (Kenya Harlequin), Walter Okoth (Kabras Sugar), Shem Okola (Strathmore Leos), Jone Kubu (Kabras Sugar), Matoka Matoka (Strathmore Leos), Byrceson Adaka (Kabras Sugar), Peter Kilonzo (KCB), Joel Inzuga (Mwamba), Derrick Ashiundu (Kabras Sugar), Alfred Orege (Kabras Sugar), Michael Kimwele (KCB)
Simbas Fixtures
Simbas v Zambia | Wednesday, November 1| Kyadondo Rugby Club, Kampala | 1600 EAT
Simbas v Uganda | Sunday, November 5| King's Park, Kampala| 1600 EAT
Simbas v Uganda | Saturday, November 11| Jomo Kenyatta Stadium, Kisumu | 1600 EAT