The highly-anticipated event is scheduled for Thursday, June 22 to Sunday, June 25 in Naivasha, Nakuru County.
The Ministry of Sports has pumped in Ksh1.4 billion (one billion, four hundred and eighty-six million and three hundred and sixty-nine thousand) to support this year's WRC Safari Rally scheduled for Thursday, June 22 to Sunday, June 25 in Naivasha, Nakuru County.
Speaking during the breakfast meeting with the Local Organising Committee and other sponsors, Sports CS Ababu Namwamba was proud to announce that the government has provided the greatest support to the rally amid the tough financial crisis facing the country.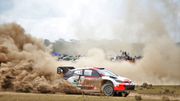 Kavisi was forced to retire from last year's event due to engine problems.
"The government is proudly the biggest sponsor of this event and we are very happy to provide support to the rally. We will continue to offer continuous support even during these hard-economic times.
However, due to that, we shall offer half of what was offered last year and I appreciate the LOC for agreeing to budget within our means. We are sure the team will be able to pull off a memorable event," Namwamba said.
On top of that, he revealed that the government will be supporting young ladies who want to participate in the rally and challenged them to come out in large numbers.
He also lauded KCB for their support towards the rally drivers including Evans Kavisi and Nikhil Sachania and Karan Patel. Last week, the rally organisers had also received massive support from KCB who pumped Ksh150 million.
"We are very keen to see participating in the event and we thank Safaricom and KCB for supporting the young drivers. Besides this support, we are also looking to support young ladies since the government is also putting an all-female crew.
I want to challenge all the ladies who would like to participate to come out since we have a special program to support the ladies and youngsters," he said.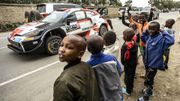 Thierry Neuville leads a strong three-car Hyundai team to the WRC Safari Rally.
So far, Namwamba revealed that more than 35 international drivers have confirmed participation. He added that they expect to have not less than 50 local drivers taking part in the national championship.