Portuguese legend Cristiano Ronaldo dominates Saudi Pro League, securing back-to-back Player of the Month awards with stellar performances for Al-Nassr.
Cristiano Ronaldo, the age-defying football maestro, has once again etched his name in Saudi Pro League history by securing back-to-back Player of the Month awards for August and September.
The 38-year-old star, now donning the colors of Al-Nassr, has been a force to be reckoned with, showcasing sublime form that defies the passage of time.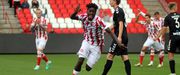 Harambee Stars midfielder Richard Odada's three goals are among those up for September award at his Danish club Aalborg
Cristiano Ronaldo's stellar performance in August, where he netted five goals and contributed two crucial assists, marked the beginning of a sensational run.
This remarkable display not only earned him the Pro League's Player of the Month for August but set the stage for an even more impressive feat in September.
The Portuguese international continued his scoring spree with an additional five goals and three assists, solidifying his reputation as one of the league's most prolific players.
Al-Nassr, once languishing, has experienced a meteoric rise in the league standings, thanks to Ronaldo's contributions. The team's six consecutive wins have propelled them to fourth place, with the prospect of reaching the summit if results align in their favor later this week.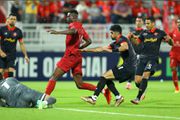 Michael Olunga's coach was lost for words after his side were beaten at home by Iranian outfit Persepolis in the Asian Champions League on Monday
Despite being in the twilight of his illustrious career, Ronaldo continues to defy expectations. The marksman not only leads the scoring charts in the Saudi league with an impressive tally of 10 goals but also remains Portugal's leading goal scorer in the Euro 2024 qualifying campaign, finding the net five times.
Comparing his current season with the previous one, Ronaldo's impact is glaringly evident. The five-time Ballon d'Or winner has already surpassed his goal tally from the 2022-23 season, with an impressive 17 goals in just 16 matches, as opposed to 14 goals in 19 games last term.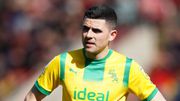 The former Celtic midfielder has announced his retirement from football to focus on his family after struggling with fertility treatment
As Al-Nassr gears up for their upcoming league clash against Abha on Friday afternoon, Ronaldo remains the focal point of attention.
The possibility of ascending to the top of the table adds an extra layer of excitement to the encounter, highlighting the impact that the football legend continues to have on both individual and team success.