Rwanda coach suspended for suggesting Ghanaian rivals played "like men" following a 7-0 defeat in women's football match.
Rwanda national federation, FERWAFA, has taken swift action by suspending Grace Nyinawumuntu, the head coach of Rwanda's women's football team, following her controversial remarks about the Ghanaian national team.
Nyinawumuntu faced disciplinary measures after she suggested that Ghana's female players were "like men," leading to a 7-0 defeat in an African Cup of Nations (Afcon) qualifier held in Kigali.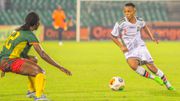 Harambee Starlets aim to overturn a deficit as they face Cameroon in a vital Women's Africa Cup of Nations Qualifier with free entry for supporters.
In a post-match statement that raised eyebrows and sparked outrage, Nyinawumuntu stated.
"They have girls who we think have male hormones. They are girls who are like men." She added, "My players were afraid of the team since the warmup. When they returned to the dressing room, they looked so scared, but I tried to calm them down and I motivated them."
The statement also included a pledge to uphold the principles of football and reiterated the commitment to developing Rwanda's national women's team.
"After a speech on the principles of football by Madame Nyinawumuntu Grâce, the coach of the national women's team, for the players of the national team of Ghana, we assured the Rwandans that we will continue to maximize our potential, and there are no major gaps in the training of the national team," it read.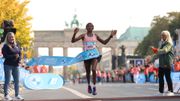 Tigist Assefa displayed her prowess in the streets of Berlin to win the race in a time of 2:11:52.
Grace Nyinawumuntu's coaching career has been marked by controversy. In 2017, she was suspended as the head coach of AS Kigali Women following sexual harassment allegations made by members of the team.
However, Nyinawumuntu fought back and took AS Kigali Women to court, ultimately winning the case. The club was ordered to pay her $47,000 in damages (equivalent to Ksh 6.8 million).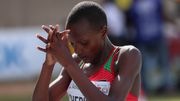 Purity Chepkirui made her debut on the global stage in 2021 and to everyone's surprise, she managed to win the women's 1500m and she has shared how that impacted her career.
Despite her previous challenges, Nyinawumuntu was appointed as the head coach of Rwanda's national women's football team in June of this year, a position she took with enthusiasm and determination.