Samuel Prakle was supposed to wed his long-term girlfriend this weekend but had to postpone the wedding because of the World Road Running Championships.
Current road mile world record holder Samuel Prakle has disclosed that he had to postpone his wedding in order to compete at the World Athletics Road Running Championships in Riga, Latvia on Sunday, October 1.
The American intended to wed his long-term girlfriend Katie Landwehr this weekend but was forced to push the event to next weekend since he was selected to represent his country at the Road Running event.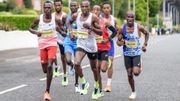 The 20th edition Cardiff Half Marathon takes place on Sunday with strong fields assembled for the men's and women's races.
"It's huge to be representing the US…they have the best track team in the whole world. I had to reschedule my wedding for a week later so I could be here for this event.
It's great to be here and to represent the US. I'm getting married next week," he said during a pre-race press conference.
The 28-year-old and his girlfriend met for the first time in 2017 during a track meet in Letterkenny, Ireland.
12 days later, they ended up at the same track meet in Cork, Ireland where they had their first date at the post-meet athlete dinner. After a long time of dating, Prakle proposed to his girlfriend in 2022 and she said yes.
Meanwhile, coming back to the track and roads, Prakle has had a mixed season where he bagged wins in some races and lost others.
However, the highlight of his career was when his world record was ratified by World Athletics. He set the record while winning the US Road Mile Championships in a time of 4:01.21.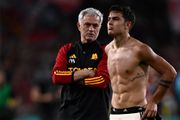 Frustr ated Roma fans have sent a clear message to Jose Mourinho and his boys to 'show some balls' after being humiliated by Genoa.
He has also competed in a number of track races where he finished in the podium bracket in some and failed to impress in others. His final track race was the 3000m at the Prefontaine Classic where he failed to finish the race.
He heads to the World Road Running Championships with the aim of turning heads one more time like he did on home soil.