Mary Moraa's track rival, Athing Mu, has shared one of her lifehacks which she believes would be very helpful to women in sport.
One of Mary Moraa's track rivals, Athing Mu has shared a life hack that has helped her manage her track lifestyle and she hopes it would also benefit other young women.
The American said that she believes in being herself since there is nothing to hide and she does not have to put up a show to attract other people.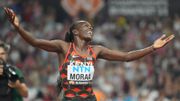 Kisii Express Mary Moraa has shared a throwback photo of herself and captioned it with an inspiring message.
Follow the Pulse Sports Kenya WhatsApp Channel for more news.
"I feel like I just feel the best when I am just my true self because I care less about what others are doing or what a certain situation is like.
I enjoy being myself because there is no filter and there is not much effort to be myself. Once I got to that point, I carried that to the track world where I enjoy being who I am and who I was created to be.
That's something that I would 1000% give to other girls, just to be themselves," Mu said during an interview with Voice in Sport.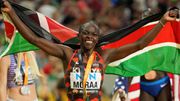 Reigning World champion Mary Moraa has come out to explain why she had no option but to win the 800m race at the World Championships.
She added that it's better to be real and have a few genuine people surround you than be fake and have a million people fall in love with a version of you that does not exist.
The Olympic 800m champion also explained that with such a mentality, she has gathered people who have shown her genuine support and she has also been able to reciprocate.
"Literally be yourself…whoever likes it will like it and whoever doesn't love it, it's okay. However, you will absolutely bring in a crowd that appreciates you and you will also appreciate them.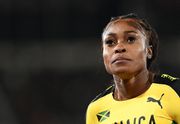 Elaine Thompson has shared an inspiring message after joining Shelly-Anne Fraser-Pryce's coach ahead of the Olympic Games next year.
What is it worth to have people who like you for being a false you? It's best if you choose yourself and have genuine and authentic people just as you are," she added.