Hellen Obiri has expressed her interest in competing for Team Kenya at the Olympic Games where she will be keen to add the only missing accolade in her cabinet.
Newly crowned New York City Marathon champion Hellen Obiri will be looking to add an Olympic gold medal to her decorated cabinet ahead of the games next year.
At the Olympics stage, Obiri has only managed to win silver in the past and insists gold is the only achievement she is yet to accomplish but she will be hoping to seal the deal next year.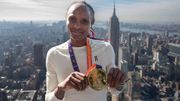 Hellen Obiri would have pocketed an extra Ksh7.5 million after finishing joint top at the World Marathon Majors leaderboard but had to walk home with the consolation prize instead
The two-time Olympic 5000m silver medallist noted that if she makes it to Team Kenya, she will burn the midnight oil to ensure all the glory comes back to the country.
"If I get a chance (to be in the Kenyan team), I will work hard to go and get the gold medal because it's the only one I'm missing," Obiri said.
The reigning Boston Marathon champion also explained that she is uncertain about making Team Kenya for the Olympics but her fingers remain crossed.
Follow the Pulse Sports Kenya WhatsApp Channel for more news.
"Hopefully (I'll be in the Kenyan team) but I'm only going to talk about it if I'm actually chosen to compete.
"If I can get time and if I get selected, I will be willing to compete. You know in Kenya, selecting a team is tough owing to the fact that so many ladies have run fast.
"They said they will name the team before the end of the year and I do hope I will make the cut to the team," Obiri said.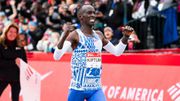 Kelvin Kiptum has shared what he wants to achieve in the 2024 season where he plans to compete in the Olympic Games and Rotteradam Marathon.
Meanwhile, the two-time World 5000m champion made her marathon debut at the 2022 New York City Marathon where she finished sixth.
She then went for the 2023 Boston Marathon earlier this year where she dominated before stamping her authority in the 2023 New York City Marathon.