The double Olympic and world champion has recorded remarkable success on the track but her humble beginnings remains her proudest moment
Triple world record holder Faith Kipyegon has termed running barefoot as the proudest moment of her career as it set the tone for the remarkable achievements she has achieved in athletics.
At the 2011 World Cross-Country Championship in Punta Umbria, Spain, a then 17-year-old Kipyegon stunned the world when she run barefoot on her way to winning the junior race.
Her decision to run barefoot had been informed by a bad experience in the previous year's World Cross-Country in Bydgoszcz, Poland where she came fourth on her international debut aged 16.
She believed her loss in the race was because the loose soil in Bydgoszcz could not give her the required grip, hence the decision to run without shoes.
It is a decision Kipyegon feels laid the ground for the success she is currently enjoying, having set three world records this year while she is also a double Olympic and world champion.
"I am proud of running barefoot because of the amazing things I have achieved now," Kipyegon told CNN when asked what is her proudest moment to date.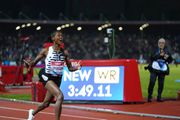 The World Championships will shape the destiny of the prestigious award but it is hard to look beyond the Kenyan triple world record holder even before the trip to Budapest.
"I was running barefoot because of I was feeling comfortable. I told my manager, thank you Nike, you gave me very beautiful spikes but I didn't know how to use them by then because I was still young and felt I can run free when barefoot and participate in competition."
Kipyegon would graduate from junior to senior three years later, winning her first gold medal at the 2014 Commonwealth Games before bagging silver at the 2015 World Championship in Beijing, both in 1,500m.
Her first Olympics gold arrived in Rio 2016 before the World title in London the following year and she defended her crown in Tokyo in 2021 before claiming another gold at the Worlds in Eugene, Oregon last year.
"To win Olympics medal as a mum was special for me because my daughter was urging me to win the gold and dedicate it to her. I was proud, ran and won the gold and dedicated it to my daughter and it was very special," she added.
While winning those medals, a world record was always on her mind and on June 2, she run 3:49.11 at the Florence Diamond League to become the first woman in history to break the 3:50-barrier in 1,500m, lowering Genzebe Dibaba's eight-year record of 3:50.07.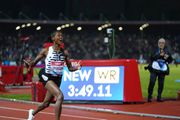 From running barefoot, winning Olympics and World Championship gold, nearly missing world record to finally getting it, Pulse Sports highlights the 29-year-old's journey to the top
"Breaking 1,500m is something I tried last year but I didn't lose hope. I still had my head held up and knew in my mind that one day, one time the world record will be there," said Kipyegon.
"I just focused, waking up in the morning, pushing myself to the limit knowing that 2023 would be possible. People say I am super human and it motivates me because not many people are super human but I am."
A week after her world record in Florence, she did it again in Paris, this time in the 5,000m, becoming the first ever athlete to break two world records in one Diamond League season. Kipyegon timed 14:05.20 to beat Letesenbet Gidey's 5,000m world standard of 14:06.62 set in 2020.
The crowning glory came last Friday in Monaco where the 29-year-old delivered a third world record in 50 days in the women's mile in a time of 4:07.64, almost a full five seconds faster than the previous world record which Sifan Hassan had set at the same venue four years earlier.
"I want to empower women, to be an inspiration to many. I want to motivate girls to know that sport can also be a profession," said Kipyegon on the legacy she wants to leave behind.
Kipyegon will be hoping to add more medals to her collection during next month's World Championships in Budapest, Hungary where she will double in 1,500m and 5,000m.