A win for Chipu will put them third, enough for a fifth place playoff spot.
Kenya u20 head coach Curtis Olago expects his charges to take the fight to their opponents when they take on Hong Kong China in their final Pool B clash on Tuesday
The team is currently placed fourth in the pool after defeats to Samoa ( 34-25) and Spain ( 48-18). Victory over Hong Kong China will see them finish third, leaving them in contention for the fifth place playoff next Sunday. A loss will consign them to the seventh place playoff.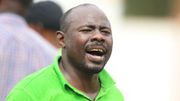 The gaffer believes the side has improved tremendously considering they did not take part in friendly matches prior to the start of the tournament.
Olago said, "We keep on fighting, we keep the faith and don't relent. Every match we play is part of our learning curve. The more the boys are exposed, the more they improve. "
Meanwhile Eddy Wambugu returns to the match day squad after missing out on Thursday's action. The fly half is one of two changes to the starting lineup, the other being Alvin Mwamburi slotting into the midfield in place of the injured Felix Chacha.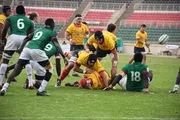 Chipu kept a physically-imposing Spain at bay in the first half, but capitulated dramatically in the second half in their Pool B clash.
Aluoch has also made two positional changes, Faran Juma reverting to fullback as James Olela starts on the wing, relegating Raphael Wanga to the bench.
Brian Makaya and James Tsinalo could make their first appearances of the tournament after being named in the match day 23.
15.Faran Juma, 14. Victor Odhiambo, 13. Alvin Mwamburi, 12. Mike Wamalwa (captain), 11. James Olela, 10. Eddy Wambugu, 9. Patrick Wainaina, 1. Geylord Ngasi, 2. George Otieno, 3. Mike Oduor, 4. Edmund Omondih, 5. Andy Cole Omolo, 6. Laban Kipsang, 7. Vincent Omondi, 8. Jacktone Omondi REPLACEMENTS 16. Jeremy Odhiambo, 17. Brian Makaya, 18. Raymond Chacha, 19. Stanslous Shikoli, 20. James Tsinalo, 21. Brian Mwendwa, 22. Spencer Davies, 23. Raphael Wanga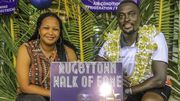 Injera has challenged Kenya to appreciate its sporting heroes better by taking a leaf from his 'eye-opening' experience in Fiji.