Simbas will be facing Zambia in their opening Victoria Cup match at the King's Park Arena in Kampala on Wednesday.
Seven players will be making their full Simbas debut for the side's test match against Zambia in Wednesday's Victoria Cup fixture set for the King's Park Arena in Kampala, Uganda.
Paul Mutsami, Alfred Orege, Joel Inzuga, Hillary Mwanjilwa, Hibrahim Ayoo, Hillary Odhiambo and Jeanson Misoga all make their test debuts after being named in the side to start.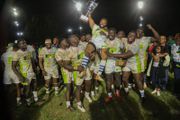 Amonde aimed a subtle dig at Nondies after KCB had been largely decimated after most of the players went away on international duty with Kenya Simbas.
A further six players will be making their first appearances in the squad with an eye on making their debuts at some point in the match.
Emmanuel Otieno, Thomas Okidia, Wilhite Mususi, Brian Ndirangu, Peter Waitere and Dan Ang'wech are potentially in line for their test debuts after being named on the substitute's bench for this tie.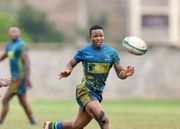 The KCB scrumhalf received his first call-up to the Kenya Sevens set up in September before going on to play a key role in the side securing Olympic qualification.
A test match in rugby union is an international match, played between two senior national teams, that is recognised as such by at least one of the teams' national governing bodies.
While a number of players in the Simbas squad to Uganda have already made appearances for the side, the 13 are playing their first test match.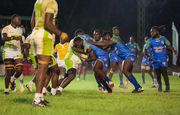 Three penalties by Darwin Mukidza were enough to help clinch KCB a record 10th Floodies title at spirited Nondies' expense.
It is also important to note that Peter Waitere, Paul Mutsami, Dan Ang'wech and Emmanuel Otieno are making their first ever Simbas appearances.
Simbas v Victoria Match Day Squad | Wednesday 1 November 2023 | King's Park Arena, Kampala | 4.00pm EAT |
15.Jone Kubu, 14. Joel Inzuga*, 13. Bryceson Adaka, 12. Paul Mutsami*, 11. Alfred Orege*, 10, Brian Wahinya (Vice Captain), 9. Barry Young, 1. Ephraim Oduor, 2. Teddy Akala, 3. Hillary Mwanjilwa*, 4. Hibrahim Ayoo*, 5. Hillary Odhiambo*, 6. George Nyambua (Captain), 7. Elkeans Musonye, 8. Jeanson Misoga* REPLACEMENTS 16. Emmanuel Otieno*, 17. Thomas Okidia*, 18. Wilhite Mususi*, 19, Brian Ndirangu*, 20. Peter Waitere*, 21. Dan Ang'wech*, 22. Derrick Ashiundu, 23. Andrew Matoka
* denotes debutante
Follow our WhatsApp channel for more news updates.