Chipu recorded their first win of the tournament against Hong Kong China to seal third in their group and secure fifth place playoff place.
Kenya u20 head coach Curtis Olago has challenged his team to "keep working" and "not to stop" after Chipu secured third place in pool B of the World Rugby U20 Rugby Trophy with a 22-16 win over Hong Kong China in a match played at the Nyayo National Stadium on Wednesday.
Olago praised his team's all round play both in offensive and attacking situations, which earned his side a place in the fifth place playoff clash this Sunday against fellow African side Zimbabwe, who finished third in Pool A.
"When we play well, the scoreboard always takes care of itself. We were looking to play well both defensively and attacking as a team," Olago said.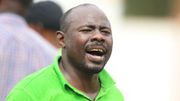 The gaffer believes the side has improved tremendously considering they did not take part in friendly matches prior to the start of the tournament.
"Good job from the boys, they kept working hard and earned the result. We have to keep working. It is not a job that stops today. We have to move forwards."
The tactician, who also coaches KCB, says that the side played well against Samoa and Spain but crumbled due to the inferior physical levels by his side, which cost them results against both sides.
"We have been defending well most of those games, but crumbling in crucial moments. We started by scoring the first try in all of those games that we started but in the second half, crumbled because of lowering our energy levels because of the physicality and skill levels of other teams but we have started doing well.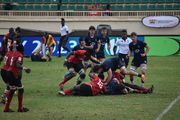 Chipu have secured third place in Pool B, and will now face Zimbabwe, the third-placed team in Pool A to determine the fifth-placed side.
"These boys agreed that it was a journey and we just have to be patient."
Captain Michael Wamalwa has called for the side to gain more exposure through friendly matches in order to help the players develop further before graduating to the simbas.
"I am feeling great. We all feel the same in the dressing room. This was our first win, against Hong Kong, and in such a big tournament.
"We have been improving since matchday one and in each game, from Samoa, to Spain and now this game. The boys just needed exposure. If we can get more exposure by taking part in more tougher friendly games, it can be a more promising set up."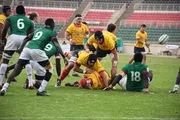 Chipu kept a physically-imposing Spain at bay in the first half, but capitulated dramatically in the second half in their Pool B clash.