Kenya Lionesses got their first win at this year's WXV3 following a big victory over Colombia to secure their place in next year's tournament
Kenya Lionesses secured their place in the WXV3 after winning their first match at the tournament courtesy of a 21-5 victory over Colombia in their crunch tie at The Sevens in Dubai on Friday.
A draw would have been enough to assure Africa's place in the third level, but a brace from Sharon Auma and six points from the boot of Ann Ochieng, including the first drop goal of the entire WXV, was enough to overcome Juliana Soto's runaway score.
Having been defeated by just a single point in their only previous meeting, Kenya came out with a vengeance and executed their game plan to perfection in the first half.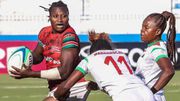 Kenya Lionesses will play their final WXV3 match against Colombia next Friday in high spirits after giving Kazakhstan a run for their money in the second match
Opening the scoring after six minutes they swung the ball from left to right, Auma crossing effortlessly in the right-hand corner.
An overpowering scrum kept Kenya firmly in the ascendency and denied Colombia any significant ball. Las Tucanes fought hard to prevent a second try, a knock on from Judith Okumu a yard short of the line saving their blushes.
But Ochieng, who kicked to great effect throughout the game, opted to drop a rare goal on 20 minutes, keeping the heat on Colombia and moving the lead to 8-0.
Simple handling errors hampered any chance of Las Tucanes getting a foothold into the game and Kenya took full advantage, a 23rd minute try for Rose Otieno, reaching over her head to dot down, further establishing their lead.
Colombia's only saving grace came against the run of play, a Kenyan mistake releasing Soto to run the length of the pitch.
But that score was nullified just three minutes later, Auma's second in the same corner extending Kenya's lead to 18-5 at the break.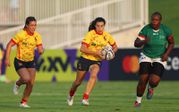 Murunga has opted to make three changes to the side as he aims to get a positive result in their second WXV3 fixture at The Sevens in Dubai on Friday 20 October 2023.
A positive start for Colombia in the second half saw them move towards the Kenyan line inch by inch, but valiant defence and Ochieng's exit extinguished the pressure.
Las Tucanes scrambled in the final quarter but couldn't add any points to the scoreboard as the handling errors mounted up, Ochieng's 75th-minute penalty confirming Kenya's first WXV 3 victory.
Kenya came close to winning their first match before narrowly losing 19-12 to Kazakhstan last week, having suffered a 32-0 loss to Spain in their opening clash a week earlier.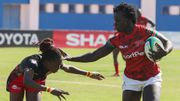 The Kenya Lionesses will have to try their luck in the grueling Olympics Qualification Tournament after missing out on a direct ticket to the 2024 Paris Games following defeat to South Africa
It has been a steep learning curve for Paul Murunga's side at the tournament which saw them play their first test matches out of Africa.
Follow Pulse Sports channel for more news.