The 24-year-old is optimistic that the team will learn from the experience, which they will use as fuel to win back promotion to the top flight at the first time of asking.
Kenya 7s hotshot Dennis Abukuse has revealed how challenging it was at first to overcome the pain of being part of the team that was relegated from the World Sevens Series for the first time in 19 years after losing the relegation playoff final against Canada in Twickenham, London in May.
The Menengai Oilers outside center enjoyed a rather memorable debut individual season, scoring 10 tries as he was an integral part of Damian McGrath's team last season, having risen to prominence in the 2022 National Sevens Circuit Series.
Kenya lost the core status it achieved for the first time since 2004, effectively consigning them to at least a season trying to fight to get back into the big time, something Abukuse says "hurt" the team so badly.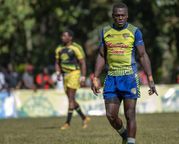 The Kenya Sevens youngster was named MVP in the recently concluded Driftwood Sevens in Mombasa.
As Canada celebrated their memorable win, Abukuse was pictured kneeling down, with his head between his hands, touching the grass at Twickenham. The reality came crashing down upon them.
Several former players took to social media to express their disappointment, with former captain Dennis Mwanja, who is now the Lionesses' head coach, expressing his pain at the fact that the game had been taken away from the people who built it "with blood, sacrifice and love".
"When people set standards for you, you are not supposed to achieve lower than the bar set; you either have to surpass or maintain it," Abukuse told Pulse Sports.
"I kept asking myself, 'Why is the team getting relegated in my debut season?'. It was painful, but if you look at it another way, mistakes happen in rugby. We had that game in the bag, but due to a simple mistake, we gave away a try.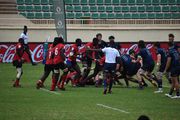 Chipu recorded their first win of the tournament against Hong Kong China to seal third in their group and secure fifth place playoff place.
"I just accepted it although it pained me. But I decided to wipe my mouth, dust myself, go back home, open a new page and give it another go having sharpened my skills."
Abukuse is optimistic that the team will learn from the experience, which they will use as fuel to win back promotion to the top flight at the first time of asking.
"We will bounce back and return to the series next April. We will go to that challenger series and dominate big time!
" This year, we only had one team taking part in the challenger series to determine next year's participants in the HSBC series. Next year, there will be four teams. Of those four teams, Shujaa must be part of them!"
Shujaa could qualify for the 2024 Olympics should they win the African Olympic qualifiers scheduled to take place in Zimbabwe in September. However, they have their work cut out considering South Africa will also be taking part in the tournament.
The winners will get an automatic ticket to the Paris Olympics, while the second and third-placed teams will have to go through a final qualification tournament in June 2024. The confident Abukuse however remains unfazed by that challenge.
"We beat South Africa at some point this season. We can beat them again as long as everyone puts a 100 percent shift in and avoid mistakes."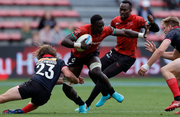 Shujaa have a tough route back to the World Sevens Series after the sports governing body introduced a new format starting next season.