Injera stepped up to head coach role with Mwamba's sevens side on an interim capacity on a couple of occasions during the 2023 National Sevens Circuit.
Kenya 7s legend Collins Injera has revealed the challenge of sitting in the dugout as a coach after taking up a new role as Mwamba assistant coach in April this yar.
Injera called time on an illustrious rugby career, in which he achieved several milestones at the HSBC World Rugby Series, before taking up a role as Mwamba assistant coach shortly afterwards.
Injera has overseen some of Mwamba's tournaments in the recently concluded 2023 National Sevens Circuit in the absence of Kevin Bling Wambua who was away on national duty in his new role as Shujaa head coach, and finally described what it is like to be on the other side of the game.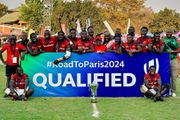 Kenya Sevens outdid themselves to qualify for the 2024 Olympics by winning the Africa Sevens against the much fancied South Africa.
Injera admitted that coaching is "a bit stressful" as there is nothing much you can do during the match considering you cannot play the rugby for them.
"So far so good, but a bit stressful," Injera said, " For the single fact that you have no control. Once those boys step on those four lines, it is up to them now," he added.
The 37-year old has however admitted that he is loving the other side of the game, as he is getting to learn quickly each and every day.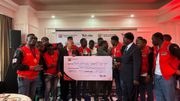 Kenya Sevens players are set to boost their bank balances significantly after being rewarded Ksh3 by President William Ruto.
"You as a coach or assistant coach, there is nothing you can do apart from shouting instructions, but I am loving it and getting to get the hand of it each and every day and I am loving that."
Mwamba finished fifth in the 2023 National Sevens Circuit, and Injera is proud of the side's consistency this year, something they can build on from next season.
"I am proud of the boys. I always say that we have become the most consistent team, we are always finishing fifth, fifth, fifth apart from last weekend when we went to third."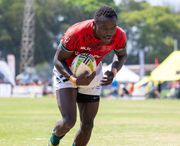 Odongo played like a man inspired to achieve something substantial at the tournament, and it was telling that he ended up winning the player of the tournament award, but his mother was unfortunatley not able to witness his achievement.