Sports CS Ababu Namwamba has put an end to talk over the completion of Kamariny Stadium.
Sports Cabinet Secretary Ababu Namwamba has reiterated that the Kamariny Stadium will not be completed in what will be bad news for athletes and residents of Elgeyo Marakwet county.
Kamariny Stadium has been in the news for over six years for all the wrong reasons over the slow pace of its construction, leading to frustration among runners from the athletics-rich county popularly known as the 'Home of Champions.'
The stadium has represented the unfulfilled promises from government after the past regime promised to complete it in six months following the commencement of its construction in 2017 but as of now, nothing much has happened.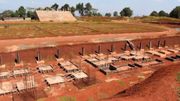 The facility has yet to undergo complete construction since it was earmarked for an upgrade.
Now, Namwamba has put off any talk of the stadium ever being completed, saying it is one of the many white elephants that should be done away with in the country, especially after the implementation of a sports masterplan.
"From today, if you see us doing a facility, just know it is logical, well thought and reasoned because it is a product of a masterplan," Namwamba said on Saturday.
"When you see us announce we are going to build a talent sports city for the Africa Cup of Nations, it is not dropping on the table from nowhere, it is being picked from our masterplan."
Namwamba said the idea to build a stadium in Kamariny was not well thought out since the area is suitable for a high-altitude training facility which will prepare athletes better and that is what the government plans to put up instead.
"We will not do a stadium in Kamariny because you do not go to Kamariny to compete. Kamariny is the highest altitude area in terms of training. You do not need a stadium in Kamariny, what you need is an elite high-altitude training facility," he added.
"If you go into our masterplan, we have pulled out a plan to do a stadium in Kamariny and replaced it with an elite high-altitude training facility."
The CS did not, however, give timelines on when construction of the new training facility will start.
Athletes from the area have been struggling to use the stadium to train, with its poor state making life difficult for them.
Elgeyo Marakwet governor Wesley Rotich has been vocal in his calls to government for the completion of the stadium.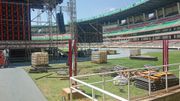 Photos of a tent at Kasarani Stadium, slated to host the 2027 Africa Cup of Nations, sparked public disapproval amid hosting preparations.
"As the Governor of this county, we will go back to the President who had promised us that Kamariny Stadium will be finished, but we will be going back, this time with our brother who put us on the global map, to discuss the process of completion of the stadium so that we can have enough training facilities," Rotich said this month during the homecoming ceremony of world marathon record holder Kelvin Kiptum.
"We have been maintaining the stadium to make it playable, but we hope that this world record will attract more people to Elgeyo Marakwet county to do more stadia, not only Kamariny, but also other facilities," he added.
Follow Pulse Sports WhatsApp channel for more news.