The National Olympic Committee president Paul Tergat has shared how they plan to ensure the welfare of athletes is taken seriously following Alexandra Ndolo's online outbursts.
German-born Kenyan fencing sensation Alexandra Ndolo has from time to time lamented on being abandoned by the Kenyan fencing federation.
Ndolo's recent lament came after she missed out on the World Cup of the 2023/24 season after the Kenyan federation failed to show up for her.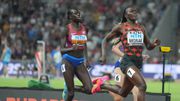 Mary Moraa's track rival, Athing Mu, has shared one of her lifehacks which she believes would be very helpful to women in sport.
Follow the Pulse Sports Kenya WhatsApp Channel for more news.
The women's epee World Cup was happening in Legnano, Italy and Ndolo noted that upon her arrival, she received the sad news that no hotel had been booked for her and she was not enrolled in the competition.
She explained that even if she had booked her hotel, she would not be eligible to participate since the federation needed to enrol her.
However, the National Olympic Committee of Kenya has come to her rescue and that of other athletes, explaining that they will make sure they take their cries seriously.
Speaking during the opening day of the Athletes Forum, NOC-K president Paul Tergat noted that they had a seminar with the presidents of the federations sometime back and they agreed on ensuring that the welfare of athletes is well taken care of.
"As NOC-K, we relate and work closely with the federations, and even as we invited the athletes, we used the channels of federations...that is how we work.
The voice of the athlete is something we want to pick up. Some months ago, we had a very long retreat with the presidents and secretary generals of all our federations because we want to see to it that we walk the talk.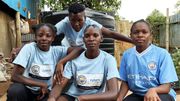 The Kibera community heroes have bagged a major award from Premier League champions Manchester City who will now visit Nairobi courtesy of their win
I believe things are going to change very soon because it is not fair that when an athlete raises a concern, we just let it slide without addressing it fully," Tergat said.
He added that the main reason why NOC-K was set up was because of the sports people and he emphasised that they will work around the clock to make sure the welfare of the athletes is observed.