Kenya's women's hockey team's Olympic dreams were dashed after a narrow defeat against Nigeria in the African hockey qualifiers.
Kenya women's hockey team saw their aspirations to participate in the forthcoming Paris Olympics dissipate as they succumbed to a 1-0 loss at the hands of Nigeria during the intense African hockey qualifiers in Pretoria, South Africa.
In what was a nerve-wracking and intense match, the Blades, faced off against a Nigerian team keen on settling scores from a previous encounter.
Last year, Kenya had secured a victory against Nigeria during the 2022 African Cup of Nations in Accra, Ghana, but the tables were turned in this crucial Olympic qualifier.
The game started on a tumultuous note for Kenya, with the defense under immediate pressure.
Diana Awino, in a desperate attempt to fend off a Nigerian attack, inadvertently deflected a shot from Benedicta Johnson into her own net.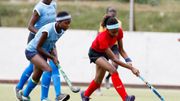 Team Kenya will be ready to stun their opponents as they gear up for the African Hockey Road to Paris 2024 qualifiers.
This unfortunate moment came just three minutes into the match, following a penalty corner that Nigeria capitalized on.
Undeterred, the Kenyan team regrouped and returned stronger in the second quarter.
Dominating possession, they pushed hard against the Nigerian defense with the most promising opportunity of the half fell to Naomi Kemunto, whose on-target shot looked certain to equalize before it was dramatically cleared off the line by a Nigerian defender.
The tension escalated as Alice Awiti nearly scored, narrowly missing the goal, and Grace Bwire's attempt to tap in at the near post just failing to materialize, leaving the halftime scoreline teetering at a slender 1-0 in favor of Nigeria.
The third quarter saw Kenya maintaining their aggressive gameplay, with Bwire once again in the thick of the action.
However, the Nigerian goalkeeper's decisive interventions kept Kenya at bay, dousing the fiery attempts and maintaining Nigeria's lead.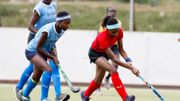 Team Kenya will send teams in both the men and women's teams to bid for a slot in next year's Olympic Games in Paris
With the final whistle sealing Kenya's fate, the disappointment was palpable among the Blades ranks.
Captain Lyne Kipsang expressed her team's heartache but remained gracious in defeat.
"I would like to congratulate Nigeria for their win. It was tough luck for my team, and we live to fight another day. I think we had a lot of chances only that we did not convert them. I can say the early goal from Nigeria was a very big blow for us," Kipsang reflected with a mix of disappointment and resilience.
Kenya's journey to the qualifiers had been impressive, boasting an unbeaten record in the group stages and topping pool B.
They had registered comprehensive victories against Zambia, Ghana, and Namibia, displaying skill and teamwork that brought them to the cusp of Olympic qualification.
As they now redirect their focus, the Kenyan team sets its sights on clinching the bronze medal. They await the outcome of the semi-final clash between the hosts, South Africa, and Ghana, to determine their opponent in what will be a consolation match.
Follow Pulse Sports WhatsApp channel for more news.