The law enforcers and the Slum Boys gear up for an electrifying season opener clash, with experienced tactics and emerging talents igniting high stakes.
Kenya Police FC will be aiming to apply early pressure on their title rivals when they clash with Kariobangi Sharks at the Kasarani Annex Stadium on the opening weekend of the new 2023/24 Football Kenya Federation Premier League season.
Last season, the law enforcers left an indelible mark with a third-place finish, an impressive feat albeit falling six points short of champions Gor Mahia. Their remarkable surge, capitalising on Nzoia Sugar's stumble, secured them the third spot on the final day, closing the chapter with 18 victories and 10 draws.
Kenya Police have fine-tuned their prowess during a fruitful pre-season, locking horns with top-tier teams in Tanzania and Rwanda. Their roster boasts four strategic signings, notably the South Sudanese duo Tito Okello and Rashid Toha.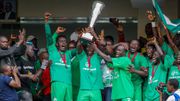 K'Ogalo faces hurdles and opportunities in the upcoming FKFPL season with fresh talent, experienced coach, and determination to defend their title.
Adding to their arsenal are former Gor Mahia midfielder Kenneth Muguna and erstwhile Kariobangi Sharks sensation Tyson Otieno.
However, Kenya Police's seasoned tactician, Francis Baraza, is well aware of the impending challenge that Kariobangi Sharks poses.
In his assessment, Baraza highlighted the formidable nature of the Sharks, led by a brilliant coach and bolstered by the vibrancy of young talents.
"Kariobangi Sharks shines as a formidable team, led by a brilliant coach, and fueled by the energy of talented young players. While they impressed last season, we managed to conquer them twice," he said.
"Last season, they emerged as a force to reckon with. This season, I anticipate fresh faces in their line-up, promising a challenge that won't come easy.
"Looking at my squad, it's remarkable how many once donned the Kariobangi Sharks jersey. This upcoming match feels like a derby, a fierce battle ahead. Despite last season's slow start, we're geared to kick off this new season on a soaring note."
Despite the past season's slow start, Baraza's squad stands ready to launch the new season on a soaring note, fueled by determination and ambition.
For Kariobangi Sharks, the new season presents a fresh opportunity for the slum boys to make their mark after a middling 11th place finish last year.
With a reputation for dynamic and rapid football, led by coach William Muluhya, they are aiming to kickstart the season on a high note.
A significant aspect of their strategy is the infusion of young talents from their youth ranks. The promotion of prospects like Lenox Kimani, Panchol Ghai, and David Jima underscores the team's commitment to nurturing homegrown talent.
These youngsters, brimming with potential, could inject new energy into the squad, offering a blend of creativity and vigour.
In addition to their emerging stars, the team has made strategic acquisitions that could tip the scales in their favour. Former star forward from Mara Sugar Victor Ngume's return adds experience and familiarity to their attacking line-up. Meanwhile, the addition of seasoned Congolese player Donald Ange brings depth to the team's resources.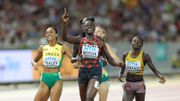 Moraa, competing in Heat Three, clocked 1:58.48 to cross the finish line.
Historically, Police have enjoyed a more favourable record in their head-to-head encounters. Having secured victory four times in previous league clashes compared to Sharks' solitary win, Police enter the match with a psychological advantage.
Recalling the previous term, Police outplayed Sharks with 2-1 and 3-2 victories in the first and second legs respectively.
The weight of these past defeats could either motivate Sharks to overcome their shortcomings or create added pressure.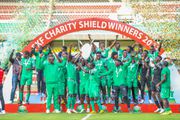 All clubs have secured 2023/24 licenses from FIB, except one penalised for not having a women's team.
Given the recent records and the prowess displayed by Police, the match is poised to be intense and closely contested. Sharks' infusion of young talent and experienced signings could potentially tip the balance in their favour.