The Irishman questions FKF ban on teams recording matches, urging reconsideration for tactical analysis purposes.
Gor Mahia head coach Jonathan McKinstry has raised his voice against an alleged decision made by the Football Kenya Federation (FKF) to prohibit teams from recording their matches.
The FKF's decision was reportedly communicated to clubs on Friday following a meeting between FKF President Nick Mwendwa and FKF Premier League club Chairmen and CEOs.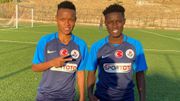 Kenyan footballers continue their successful journey in Turkey, securing contract extensions with Hakkârigücü Spor in women's top-flight league.
McKinstry took to Twitter to express his concerns about the ban and urged the federation to reconsider its stance.
"Ahead of the kick-off of the new FKF Premier League and Football Kenya Federation have banned all teams from recording their own matches for the purposes of internal video analysis. I have never known or been involved in a competition where such a decision has been taken," he wrote.
The coach went on to ask pointed questions about the rationale behind the decision and its potential impact on teams' growth.
"Some questions arising from this decision by the Football Kenya Federation. Why has this decision to restrict teams' development been made?
If major competitions all over the world permit internal video capture for analysis purposes, why is it deemed not possible for the FKFPL? Why is match analysis taught on the CAF licenses if coaches & teams are not allowed to obtain the necessary material to perform it?" he added.
In an era where video analysis has become an integral part of refining strategies and improving player performance, the decision to bar teams from recording their matches seems counterintuitive.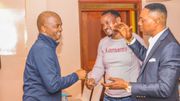 Kenyan football gears up for exciting 2023/24 season, with strategic planning, broadcast deals, and high-energy opening day clashes.
Many coaches rely on the ability to review games from various angles to identify strengths, weaknesses, and areas for improvement.
McKinstry's argument gains further weight from the fact that top leagues and tournaments around the world, including major competitions overseen by FIFA and UEFA, routinely allow internal match recording for analysis purposes.
"No decision is cast in stone. As such, I hope that FKF can revisit their decision and agree reasonable criteria for teams to capture their own tactical video for internal use as well as protocols to prevent external broadcast of the same if this is a concern," McKinstry concluded.
Gor Mahia, who won last season's title on the last day of the season after going toe-to-toe with Tusker FC, start their campaign against Sofapaka.