Kariobangi Sharks were facing Everton at Kasarani in the 2019 SportPesa Super Cup: a tournament created by bookmakers SportPesa to raise the profile of East African football
Kariobangi Sharks head coach William Muluya has described his side's win over Everton at the Kasarani Stadium in July 2019 as a "once in a lifetime" moment and a "big experience" he will cherish forever.
Both clubs were taking part in the 2019 SportPesa Super Cup: a tournament created by bookmakers SportPesa in an attempt to raise the profile of African football and what it represents in a clash against English opposition.
Everton, who were sponsored by gambling firm SportPesa at the time, travelled to Kenya to play in the competition as they prepared for the upcoming 2019/20 campaign, with local side Kariobangi Sharks being chosen to come up against a youthful Toffees team.
In 2019 the Sharks beat English Premier League side Everton on penalties after a 1-1 draw in a friendly in Nairobi.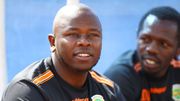 After beating Shabana last Saturday, Muluya said he has "faith" that his side can win the title this season.
Speaking to BBC Sport Africa, Muluya said that the match will forever go down in history and down the memories of the participating individuals.
"It was a moment to cherish, playing in front of around 85,000 fans," he remembers. "It will go down in the history of the team and the memories of the individuals who participated. It was a big experience because it's a chance that you only get once in a lifetime."
Then Everton head coach Marco Silva decided to play the likes of Andre Gomes, Phil Jagielka and Ademola Lookman during normal time, while plenty of academy players got their chance to shine.
But it was the penalty shootout that grabbed the headlines as over 64,000 fans watched several Kariobangi Sharks perform some outrageous celebrations after converting from the spot, including a golf swing and a fake hamstring injury.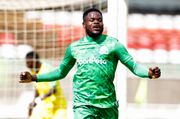 Omala currently leads the goalscoring charts but insists the team winning matches is more important than individual  accolades.
Everton's former captain Leighton Baines certainly enjoyed his experience in Kenya.
"It was a good experience," he told Everton TV. "We've come out here and done what we were supposed to do, being out here, fulfilling our obligations and enjoying the experience.
"The game at the end of the week was a nice way to round it off. I enjoyed it and the short time we had out here. It was a good experience for the younger lads as well coming out here, and good for the Kenyan lads as well.
"I'm sure it'll stay with them. It was a lot of fun, it was a fun game to play in and that's what it was meant to be."
Follow our WhatsApp channel for more news updates.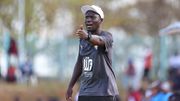 Nairobi City Stars coach Nicholas Muyoti's journey from player to mentor, overcoming obstacles and achieving success in Kenyan football.