Noah Lyles not only impresses on the track but also on the runway and he is making good money out of it.
After taking a break from track and field, double World champion Noah Lyles is not resting on his laurels as he continues making more money.
The American modeled for Hugo Boss, a retailer that offers very fashionable attires and fragrances for men and women.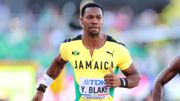 Jamaican sprinter Yohan Blake reflects on a tough season, offers inspirational message, and ranks 11th in the latest World Athletics standings.
According to reports, Lyles was being paid per hour, just like all the other models and he is making over Ksh 6,500 every hour just by wearing the outfits and walking on a runway.
He is known to make an impact on the track but on the runway, he is also a beast. Lyles teamed up with an 18-year-old US Paralympic athlete Ezra Frech and made a statement at the Spring 2024 Milan Fashion Week and left people starry-eyed.
Lyles fascinated the crowds as he doned a chocolate brown suit and a porcelain trench coat and walked down the ramp with a towering presence. Moreover, Frech sported a collared black bomber jacket over a white shirt and tie along with faded olive trousers.
After walking on the runway, he posted on his Instagram page saying: "The straight away is fun but the walk away is less stressful."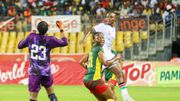 Kenya faced a tough battle against Cameroon in the 2024 Africa Women's Cup of Nations qualifier first leg but ultimately fell short.
One of his plans has now been ticked off his bucket list and he will be meaning to engage in other activities that he has lined up.