The youngster earned Kenya her fourth medal at the 2023 World Athletics Championships in Hungary.
Emmanuel Wanyonyi settled for 800m silver at the World Athletics Championships in Budapest, Hungary, narrowly missing out on gold in a thrilling final on Saturday night.
The 19-year-old was engaged in a fierce competition with the eventual champion Marco Arop from Canada, while Ben Pattison from England secured the Bronze medal.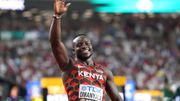 Omanyala was bidding to become the first African man to medal at the global showpiece but Botswana's wonder kid Letsile Tebogo beat him to it.
As soon as the starting gun fired, Wanyonyi fought to position himself at the front alongside main race contenders like Arop, Tshepiso Masalela of Botswana, USA's Bryce Hoppel, and Algerian Slimane Moula. He was leading at the bell.
As they entered the home straight, Pattison strategically increased his pace, creating a substantial gap that forced the remaining competitors to embark on a chase to catch up.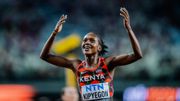 The three-time world champion opted to run from the front from start to finish and it worked wonders as she left her competitors fighting for second and third place
With determination, Pattison navigated the final bend along the outer lane, creating just enough room for Wanyonyi to seize an opportunity on the inside track for the last 100 meters.
In these crucial moments, Wanyonyi engaged in a heated tussle with Arop, vying for the coveted gold medal. Despite his relentless effort, Wanyonyi could not quite manage to pull ahead and match Arop's position.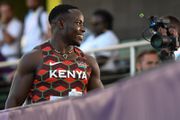 Omanyala opted to stay optimistic after the match, wearing a broad smile, as if to suggest that it was not all doom and gloom considering the amount of money he is set to earn.
Arop, who had secured the world bronze medal a year prior, crossed the finish line with an impressive time of one minute and 44.24 seconds.
Wanyonyi, the former under-20 world champion, demonstrated his prowess by not only being the fastest in the preliminary heats but also setting the tempo in the semifinals. His exceptional performance earned him the second spot with a time of 1:44.53.