Kelvin Kiptum has shared how his Nike AlphaFly super shoes have played a vital role in his glittering career.
Reigning World marathon record holder Kelvin Kiptum has been the talk of the town in the recent past thanks to his dominant exploits on the roads.
Kiptum made his debut at last year's Valencia Marathon and clocked the fastest time ever over a debut to win the race. He crossed the finish line in an impressive time of 2:01:53.
Earlier this year, he went to compete at the London Marathon where he won the race in the second-fastest time over a marathon. Kiptum clocked 2:01:25 to cross the finish line.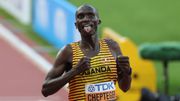 Joshua Cheptegei has reacted to Kelvin Kiptum's Valencia Marathon debut and disclosed whether he will go for the course in his debut on the same course.
Follow the Pulse Sports Kenya WhatsApp Channel for more news.
His biggest breakthrough came when he stunned the whole world and broke Eliud Kipchoge's world record at the Chicago Marathon. The 23-year-old cut the tape in 2:00:35 to completely destroy Kipchoge's record of 2:01:09 that he set during the 2022 Berlin Marathon.
He explained that super shoes have definitely made a difference in his running career and they play a huge role in his success.
Kiptum runs with the now well-known Nike AlphaFly shoes, running shoes with a carbon plate that provides more suspension. They cost more than Ksh 40, 000 and he explained that he gets new ones for each race.
"That shoe definitely makes a difference. Especially when it comes to times because everyone at the top wears such technologically advanced shoes.
So physically we would end up in the same places if everyone else were also walking in different shoes.
But in such a marathon you will probably gain fifty seconds, although that is difficult to calculate. I get a brand-new pair for every match," he said as per De Tijd.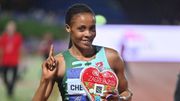 Beatrice Chepkoech announced her return with a commanding win in the Zevenheuvelenloop 15km race in Nijmegen, Netherlands.
He disclosed that he got the Chicago Marathon running shoes on the morning of the event and did not even have a chance to try them on and try running with them before the race.
However, he did not have any worries since the shoes are designed in such a way that an athlete is protected from blisters.
"I received the shoes I wore in Chicago the morning itself. So, I hadn't even walked a meter with it, but that's how it always is.
In the past, no one would have dared to do that for fear of blisters. Apparently, those shoes are so good that you don't run that risk.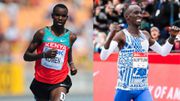 Athletics enthusiast Robert Ruto has given reasons why he thinks world marathon record holder Kelvin Kiptum is similar to the legendary athlete, Daniel Komen.
I had no problems, and the next morning I went for a jog in Chicago. For me, that's the big difference between that shoe. The recovery is phenomenal," Kiptum said.
The London Marathon champion only wore the world record shoes once because, after the race, the shoes were taken by someone from World Athletics. However, he added that he would request for them once they have been examined.
"I don't even have them anymore. Shortly after the finish, they were taken off my feet by someone from World Athletics, I never saw them again.
I heard they want to exhibit those shoes somewhere, but I'm going to ask for them back. One day I want to be able to show my grandchildren how I broke the world record in the marathon," he added.