Africa's fastest man Ferdinand Omanyala has changed coaches but what was he able to achieve with his now former coach, Duncan Ayiemba?
Commonwealth Games champion Ferdinand Omanyala this week parted ways with his long-term coach, Duncan Ayiemba, who has played a very vital role in his athletics career.
Omanyala started off his professional career back in 2016 with Ayiemba and together, they have achieved many great milestones. He started by featuring in local competitions where he won most of his races and posted impressive times.
His first international assignment under coach Ayiemba was at the World Athletics Relays where his team finished fourth in the heats. He further went to the Kampala Ugandan Championships but his results at the event were disqualified due to an anti-doping rule violation.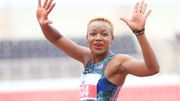 In her eight years of being an athlete, Omanyala's fiancee Laventa Amutavi has shared one of the most valuable lessons.
Back in 2017, Omanyala was banned for 14 months for testing positive for glucocorticoid betamethasone, with his coach, Ayiemba, being suspended for two years for 'administration or attempted administration of betamethasone'.
Africa's fastest man then came back in 2019 and competed in several local races where he won most of them but at the time, he failed to make the cut to the national team for the World Relays Championships.
He made his third international appearance at the International Meeting and Combined Events in Mauritius but yet again failed to make an impression after being disqualified.
In 2020, before the COVID-19 pandemic struck, Omanyala competed in a couple of Athletics Kenya weekend meets in both the 100m and 200m and finished in the podium bracket in all the races.
Under the tutelage of Ayiemba, Omanyala made huge strides in 2021. He made it to the delayed 2020 Tokyo Olympic Games, his first Olympic Games ever, and made it to the semi-final of the 100m race.
In 2021 was when Omanyala clocked his first-ever sub-10 performance at the Josko Lauf Meeting where he timed 9.96 to win the semi-final of the 100m and later 9.86 to win the final. It was also in 2021 when Omanyala made his debut at the Diamond League Meeting, competing in Brussels where he finished fourth.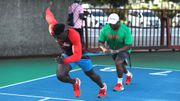 Many fans might be wondering who Ferdinand Omanyala's new coach, Geoffrey Kimani, is, and here is a look into what he has achieved so far.
Omanyala also made a name for himself after clocking an African record time of 9.77 at the Kip Keino Classic to end his season. That was when the world came to know of Africa's fastest man.
Omanyala then went into the 2022 season, still under the tutelage of coach Ayiemba, and made huge strides. He could now compete in international events and he was even able to start his season with an indoor tour.
He also made his first appearance at the World Championships that were being held in Oregon, USA despite having visa hitches. He was able to post a couple of sub-10 performances in 2022 and made history by winning the 100m race at the Commonwealth Games in Alexander, Birmingham.
Follow the Pulse Sports Kenya WhatsApp Channel for more news.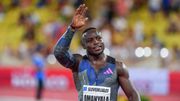 Ferdinand Omanyala has changed his coach as he gears up for the 2024 busy season.
Going into the 2023 season, Omanyala has been able to achieve greater milestones. He made it to several Diamond League Meetings where he finished on the podium and also went ahead to become the first Kenyan to win a Diamond League Meeting in 100m in Monaco.
Omanyala then competed at the World Championships in Budapest, Hungary, finishing seventh in the final. As he heads into the 2024 season, he has eyes fixed on the Paris Olympic Games and his new tactician, Geoffrey Kimani, will be keen to guide him.