Kenya Rugby Union has provided an update on the number of teams who have so far confirmed their availability for the annual Safari Sevens tournament
Twelve 12 teams have confirmed their participation in the Safari Sevens men's tournament set to take place from November 17-19 2023 at the RFUEA Ground in Nairobi.
Hosts Kenya will field three sides, Shujaa, Morans and KCB while Uganda, Zimbabwe, Zambia, Germany, Qatar, Samurai, Red Wailers, Apache and Tropic 7s have all confirmed their participation.
Five sides have so far confirmed participation in the women's event. They include the two Kenya Lionesses squads, Uganda, TUKS Women and Tropic 7s.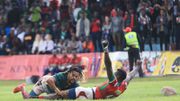 Ticket prices for the much-anticipated three-day Safari Sevens Tournament to be held at the RFUEA Grounds have been revealed.
The tournament is returning after a two-year hiatus and will be held at its initial home (RFUEA) having been staged at Nyayo Stadium in 2021.
Safari Sevens returns on the back of Kenya Rugby Union (KRU) electing a new board as well as the Kenya national sevens team Shujaa's qualification to the 2024 Paris Olympics.
The tournament is open to international representative sides, professional and amateur clubs, invitational teams, university and school teams.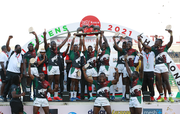 The tournament last took place in 2021. It was set to return in 2022, but was canceled by the previous KRU board due to "unavoidable circumstances".
Shujaa were the winners of the last edition two years ago when they defeated Germany 12-5 in the cup final while Kenya Morans secured third place after overcoming Red Wailers 12-5.
The Kenyan sides will therefore hope to make a statement at the event with Shujaa keen to defend their title while also using it as part of their preparations for the 2023-24 Challenger Series as well as the Paris 2024 Olympics.
Safari Sevens was set to return in 2022, but was canceled by the former KRU regime due to "unavoidable circumstances".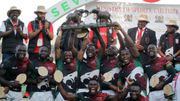 Last year's event was canceled last minute due to financial constraints.
Tickets for the three-day event are now available and those who wish to attend the opening match on Friday November 17 will pay Ksh500 for a regular ticket and Ksh2,000 for a VIP one.
On Saturday and Sunday, the prices will increase with fans spending Ksh1,000 if they wish to buy a regular ticket, and Ksh3,000 for a VIP slot.
They can also buy a seasonal ticket for the entire duration of the tournament which will set them back Ksh2,000 (regular) and Ksh5,000 (VIP).
Follow Pulse Sports WhatsApp channel for more news.