Kenya Simbas coach Carlos Katywa has revealed why he thinks his side stands a better chance of winning the tri-nations Victoria Cup ahead of Zambia and Uganda.
Kenya Simbas assistant coach Carlos Katywa is drawing confidence from a united group ahead of their Victoria Cup clash against Zambia on Wednesday.
The Simbas, who had been in residential training in Kakamega, arrived in Kampala, Uganda on Sunday and will begin their campaign against Zambia at Kyadondo Grounds before taking on hosts Uganda on Sunday at King's Park in a fixture that also doubles up as the opening match of the Elgon Cup.
Katywa feels his team have prepared well for the tournament and will be motivated by the fact that they are playing 'home away from home' in Kampala.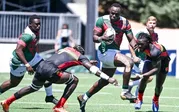 Kenya Simbas coach Carlos Katywa has included four debutants in a strong 25-man squad for the Victoria Cup tournament set to kick off in Uganda next week
"We have prepared very sufficiently, very hard but I think it is just a continuation of where we left off the last time we assembled. The guys are looking sharp and this is our home away from home so I think we have mentioned how we enjoy ourselves every time we come here on and off the field. The guys enjoy the culture here," said Katywa.
"When we came here, it is to make sure that our structure and everything we are building towards our main goal is still intact and our guys are ready."
The Kabras Sugar coach feels having retained most of his squad from the team that took part in the Currie Cup in June is an added advantage as they have not been required to start from scratch but rather build on the structures they put in place.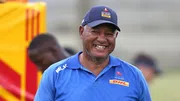 The Kenya national 15s side Kenya Simbas are scheduled to take part in the Victoria and Elgon Cups respectively before the start of the new Kenya Cup season.
"Our plan is to play very well, execute all our structures. In terms of history, it always writes itself but we are here to take all three games seriously," he added.
"Our structures were put to the test in the Currie Cup last time we met as a group and we have retained 95 percent of the guys except the ones we lost to the sevens because they are preparing for a different competition.
"My confidence is really on the fact that our continuity and we are getting backing from the union and that is why we are confident because knowing what they are capable of is another reinforcement for me."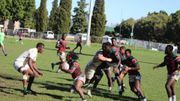 Kenya Simbas could have an easier path to qualifying for their first Rugby World Cup after World Rugby expanded the 2027 tournament.
Katywa and Curtis Aluoch will handle the side in the absence of head coach Jerome Paarwater who will link up with the team ahead of the Elgon Cup return match against Uganda in Kisumu on November 11.
Paarwater assured last week that he will find ways to give every player who participates in the two tournaments as much game time as possible in order to understand what they can give him in future international assignments, including the 2027 Rugby World Cup qualifiers.
Follow Pulse Sports WhatsApp channel for more news.