Lang'ata MP Jalang'o questions Western region's readiness for AFCON, highlighting the need for FIFA standards beyond stadium wishes.
Lang'ata MP Phelix Odiwuor, popularly known as Jalang'o, has expressed skepticism and raised valid concerns over the recent request by Kisumu Governor Anyang Nyong'o and Kakamega Governor Ferdinand Barasa to have Africa Cup of Nations (AFCON) matches held in their respective counties.
The two governors had objected to the government's decision to select Nairobi and Eldoret as the venues for the AFCON 2027 football matches.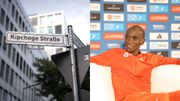 After his win at the Berlin Marathon, news about a street in Berlin being named after him spread like bushfire but that information is false.
In a strongly-worded statement, Jalang'o criticized the governors' demand, questioning the preparedness of the Western region to host such a prestigious event.
He particularly emphasized the need for not just stadiums but also training grounds of international standards, considering the presence of renowned players like Sadio Mane.
"Apart from the stadium, do you know we need training grounds of equal standards! Do you know that international scouts are coming? Mahrez, Sallah, Mane and the others are coming? Eldoret, Kisumu, Kakamega, kindly wait we get Nairobi ready before you even start your request to host the AFCON unless you really don't know what you are asking to host, and if you have you insist then before 2027 get at least 10 new 5-star hotels and at least 2 FIFA standard stadiums in the counties! Hii ni AFCON sio Chapa Dimba!," Jalang'o remarked.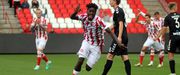 Harambee Stars midfielder Richard Odada's three goals are among those up for September award at his Danish club Aalborg
The legislator's comments highlight the practical challenges involved in hosting a major football tournament like AFCON. He underscored the need for adequate infrastructure, not only in terms of stadiums but also training facilities and accommodations that meet the standards expected for an event of this magnitude.
Governors Nyong'o and Barasa had argued that the decision to exclude the Western region was tragic, urging the government to reconsider and allocate matches to either Kisumu or Kakamega. They emphasized the potential economic benefits and visibility the region could gain from hosting such a prestigious international event.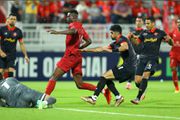 Michael Olunga's coach was lost for words after his side were beaten at home by Iranian outfit Persepolis in the Asian Champions League on Monday
The announcement that Kenya, Uganda, and Tanzania would host AFCON games came during a CAF executive meeting in Cairo, Egypt, chaired by CAF President Patrice Motsepe.
The East African nations successfully outbid strong contenders like Egypt, Senegal, and Botswana to secure the hosting rights for Africa's premier football event.