Manchester United employees permitted Manchester City employees to fly their flags in the Old Trafford corridor.
Manchester United employees have come under criticism for allowing Manchester City to hang flags with their logos on the walls of the Old Trafford dressing room corridors.
After a penalty kick by Erling Haaland had split the scores at the half, City put on a show to win 3-0. Despite being biased, the scoreline was unfavorable to United; City's final-quarter XG being as high as 4.00.
The Old Trafford fans booed Rasmus Hojlund's replacement in the second half while Erik ten Hag's choices, such as switching Mason Mount for Sofyan Amrabat at halftime, came under intense scrutiny.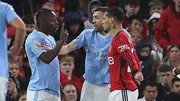 Doku has made a brutal five-word statement in response to Antony's kick on him during Manchester City's win over Man United.
To add salt to the already open wound of losing heavily at home, the club's employees even allowed their rivals to pin their club flags on the club's corridors.
One fan was quick to slam the situation on X, formerly Twitter, saying, "Man Utd staff allowed Man City staff put their flags up in the corridor at Old Trafford yesterday. Club is indeed rotten. How did no one rip them off? Liverpool and Man City will never let you do this at their grouds. Disgusting and disrespectful."
Another said: " We are a joke . The club is finished and will only get worse."
" I'm quitting football, can't (do) this anymore," one fan expressed.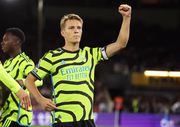 The Norway international has revealed why opting to leave Arsenal for Real Madrid was "the best decision of his career" as he was forced to sever  ties with "the biggest club in the world"
"I feel like old Trafford is now an away game for man united ffs," another frustrated fan wrote in response.
Gary Neville said Manchester United were "obliterated" by Pep Guardiola's City in the Manchester derby, but the Sky Sports analyst maintained United should continue to work with the constantly troubled Erik Ten Hag.
Speaking after the match, Ten Hag blamed mistakes in the second half for his side's pumelling to their close rivals.
"First half, we played very well. The game plan went on how we wanted. We defended very good. They almost didn't create – one big save from Andre in that start.
"We had two or three breaks, we had to benefit from it. We have to take more from it, but the penalty changed the game. I don't have a comment on it.
"The second goal, we made the mistake, we made the wrong decision to go up to the goalkeeper in the wrong moment. And we did not recover quickly. They got into the game and power in the midfield, they could switch the game and put players in the wrong positions. But it started with us. Then they outplay us."
Follow our WhatsApp channel for more updates.