Doku has made a brutal five-word statement in response to Antony's kick on him during Manchester City's win over Man United.
Jeremy Doku has rattled Manchester United faithful with a cryptic social media post in response to Antony's frustrating kick on the Belgium during stoppage time as Manchester City cruised to a 3-0 win.
City came away from Old Trafford with the win being achieved very comfortably. Erling Haaland scored from the spot in the first half before doubling his side's lead shortly after the break. Phil Foden added the final touch with a close-range effort on 80 minutes.
United grew frustrated in the second half as an imperious City side kept possession at will, and substitute Antony took out his anger with a kick on Doku in added-time. The Belgian winger confronted his rival and the pair continued to exchange choice words.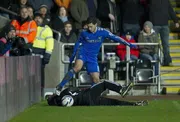 The ball boy that Eden Hazard kicked back in 2013 in Chelsea's loss to Swansea City has gone on to become filthy rich.
Doku was able to leave the pitch victorious and after full-time, posted a picture of the clash on his social media. Alongside it, he wrote: "Stay calm... Manchester is blue".
Antony was not the only player to lose their composure in the final minutes of the game, with United captain Bruno Fernandes also booked in added-time for a lunge on Doku.
The Portuguese midfielder also injured himself when charging into a challenge on John Stones and was evidently frustrated.
After full-time, Roy Keane urged Erik ten Hag to strip Fernandes of the captaincy, adding: "He's whinging, he's moaning, he's throwing his arms up in the air constantly. From what I saw today, I would take that [the armband] off him.
"Fernandes is a brilliant footballer, but in terms of captain material, he is the opposite from what I want in a captain."
The derby result kept City within two points of early Premier League leaders Tottenham, while United sit eighth - closer to the relegation zone than the top of the table after a fifth defeat in 10 league games.
Off the back of derby victory, City have a clear week to prepare for the Premier League visit of Bournemouth on November 4. United are back in action sooner, facing a Newcastle side that knocked City out of the competition in the Carabao Cup fourth round on Wednesday.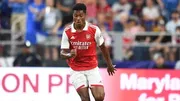 The 18-year-old Arsenal academy graduate, who has even yet to make his debut for the club, was making 10,000 to 15,000 dollars (Ksh 1.5-2.3 million) a night when he was just 15!
Follow our WhatsApp community for more updates.