Mary Njoroge has finally been slotted for her first assignment at the ongoing global tournament in Australia New Zealand
Kenya's referee Mary Njoroge will take charge of her first match at the 2023 FIFA Women's World Cup when Portugal take on Vietnam in their second group match on Thursday.
Njoroge will be among the all-African crew led by Rwanda's Salima Mukansanga, who will be the centre referee, with the Kenyan serving as one of her assistants, alongside Queency Victoire from Mauritius. Anahi Fernandez Hernandez from Uruguay will be the fourth official.
It will be the first assignment for the three African referees at the 2023 tournament and they bring a wealth of experience, this being Njoroge and Mukansanga's second Women's Cup, while Victoire is making her maiden appearance.
"I am not just going there as Mary. I am going there with the Kenyan flag. I am going there as an East African. I am representing every girl child in East Africa, every woman. So, I have to carry this on my back, remembering that back home this is a win for us women in Africa, at large," Njoroge told the media just before leaving for Australia early this month.
"It is the best feeling ever, it is a dream come true. It is what I ever dreamt of ever since I joined refereeing. I dreamt of officiating a World Cup, at the Olympics. Now that I am going to another World Cup, it is the best feeling ever.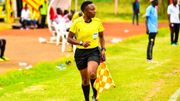 The match official will be among 55 assistant referees at the 2023 tournament but she will not give up until she officiates at the men's World Cup
"This is the biggest stage of them all and we have to be prepared. We know we have to be at our best and that's why we have instructors with us. I have my fitness coach as well as technical coach with me here in Kenya and they prepare us for what to expect," she added.
Besides officiating at the Women's World Cup, Njoroge has also worked at the 2020 Tokyo Olympics, Africa Cup of Nations qualifiers, CAF Confederation Cup and the U17 Africa Cup of Nations but she is still not satisfied until she officiates at the men's World Cup.
Njoroge need not to look further for inspiration as Mukansanga, whom she has also worked with on previous assignments, was among the three female referees selected to officiate the men's World Cup for the first time ever at the 2022 tournament in Qatar.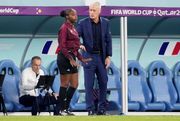 At least eleven African referees including Rwandan referee Salima Mukansanga will officiate at the 2023 FIFA World Cup set to take place in Australia and New Zealand from July 20 to August 20.
Portugal are looking for their first win at the tournament after losing 1-0 to the Netherlands on matchday one while Vietnam will be all but eliminated if they lose following their 3-0 thrashing in the hands of defending champions United States last weekend.
The three referees will be under huge scrutiny during the match set to be played at the Waikato Stadium in Hamilton, New Zealand with the kick off set for 10.30am Kenyan time.