Kajiado FC coach has unveiled controversy and fan uproar secrets following their match against Mathare United,
Kajiado FC coach Hamisi "Kaka" Mohamed has shed light on the chaotic scenes that unfolded after their heartbreaking 2-1 loss to Mathare United in a National Super League (NSL) match held at Ildamat Stadium in Kajiado County on Sunday.
The game witnessed an eruption of fury from Kajiado FC fans, who expressed their discontent with the match officials through a hail of missiles and harsh words.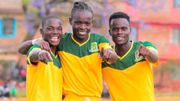 Mathare United extended their lead in the National Super League table to five points with a narrow victory over Kajiado FC.
The match's officiating took center stage as the catalyst for the tumultuous aftermath.
"What I can say is that we were denied two clear penalties, and it was disheartening to witness the fans' reaction towards the referees. It's important to remember that referees are human, and they can make mistakes, but there were some decisions that they could have made differently, such as the penalties that were not awarded to us," Kaka candidly stated.
The fans' anger escalated to such a point that the match officials had to be swiftly escorted to safety under tight security, with police officers intervening to rescue the referee from a hostile crowd.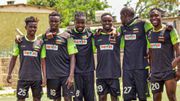 Naivas' victory over Kisumu All Stars puts pressure on league leaders Mathare United, with just a two-point gap separating the teams.
This incident is not an isolated one for Kajiado FC, as coach Kaka revealed that his players had recently been a target away at Silibwet Stadium late last month.
"It is not the first time; when we went to Silibwet, my players were physically assaulted, and nothing has been done. Poor officiating will make some of us lose momentum if nothing is done," he added.
Despite the bitter loss, Kajiado FC is determined to persevere and climb the ranks.
"Nevertheless, we are not giving up. My players, despite their youth, have the potential to compete at a high level. Our ultimate goal is to secure a spot in the Premier League," he stated.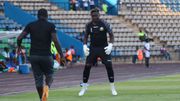 Zesco United goalkeeper seeks to regain the starting position in the national team after a shaky performance by the incumbent.
The Arsenal Soccer School graduate expressed his gratitude to the players for their dedication during the week of preparation and acknowledged that their lack of experience played a significant role in the defeat.
"The game was undeniably challenging. However, it's crucial to remember that this is a long season, with more than 30 matches remaining, and we will use this loss as a stepping stone to improve. I would like to urge the federation to pay close attention to officiating," coach Kaka concluded.
The painful loss marked the fourth for Kajiado FC this season, leaving them in ninth place on the league table after ten matches.