Kenya yet to start preparations for prestigious tournament qualification.
Harambee Starlets' adversaries in the 2024 Women's Africa Cup of Nations (WAFCON) qualifiers, Cameroon, have lined up a friendly against the Central African Republic to strategically enhance their readiness.
The encounter, scheduled for September 12th in Yaounde, marks a crucial preparatory step for Cameroon ahead of the upcoming two-legged qualifiers set to unfold between Friday, September 22, and Tuesday, September 26.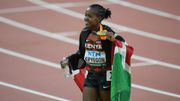 Kipyegon showed once again how lucrative athletics can get after seeing her bank balance swell big time in a span of three months
The Central African Republic Football Federation has officially confirmed this friendly fixture, underscoring its significance as a stepping stone towards the impending clash against Mali in the qualifiers.
While Cameroon solidifies its strategy on the field, Harambee Starlets, Kenya's formidable women's national football team, is yet to finalize any friendly matches in their prelude to the upcoming competition.
Amidst the preparations, reports have surfaced indicating that Godfrey 'Solo' Oduor, recently appointed as the head coach of Harambee Starlets, might have tendered his resignation before even stepping onto the touchline.
Oduor's decision, although surprising, is said to be rooted in his desire to fully dedicate his efforts to his role as head coach of FKFPL side Nzoia Sugar. The unexpected twist adds an air of unpredictability to Starlets' journey, leaving them without a coach just six months after Oduor's appointment.
Harambee Starlets, currently positioned at 148th in the FIFA standings, are bracing themselves for a challenging endeavor against the formidable Indomitable Lionesses.
The upcoming qualifiers hold immense significance for the Kenyan team as they seek to secure a spot in the prestigious 2024 Women's Africa Cup of Nations, an event they last participated in during their debut in 2016.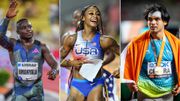 If Usain Bolt would not have been retired, then he would have been the most followed athlete since he has 13.3 million followers
Despite their determination, Starlets have faced a lack of competitive exposure, with their international activities coming to a halt in February 2022 due to FIFA's suspension of Kenya over government interference in football.
While the ban was subsequently lifted later that year, Starlets found themselves grappling with a dearth of opportunities to showcase their skills, even missing out on the Olympics qualifiers.
Starlets planned friendly encounter against Albania in April was scrapped due to logistical hurdles, leaving the Kenyan team with limited international engagements leading up to the qualifiers.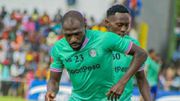 The departing coach achieved significant milestones, including a top-four finish and reaching the second qualifying round of the CAF Confederation Cup.
Should they emerge victorious against Cameroon on aggregate, they will advance to face either Gabon or Botswana in the second round of the qualifiers, scheduled between November 27 and December 5.
A triumph for Kenya in the second round would secure their coveted ticket to the 2024 Women's Africa Cup of Nations in Morocco.