City are without a loss since February 5 and need to win five of the six remaining games to retain the title.
Pep Guardiola has revealed that his biggest worry is how Manchester City will recover amid a tight schedule as the Premier League hits the homestretch.
City claimed a 2-1 victory over Fulham on Sunday to go top, and as they hope to defend the title, they have to contend with a congested schedule.
"The grass was dry for both teams, so it was difficult to get a rhythm, but we found our momentum. We defended properly, which is the biggest difference from the past," Guardiola said in his post-match reaction.
"We struggled a little bit, but it's normal, and my only concern is how we recover.
"We have a lot of games every three days, and it is normal. Winning games helps us to be faster, and we accept the challenge."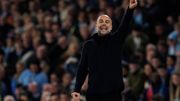 The tactician warned despite the fact that his side sits two points behind Arsenal and has more games pending.
The Spaniard pointed out how they can deal with the pressure from Arsenal, who are their closest rivals this term.
"All the time, we come from a run of victories, as Arsenal didn't drop points, and it looked like the target was just beating Arsenal. But when you play that game, you can drop a little bit," said the former Barcelona manager.
"We knew the game today would define a lot. Now we have two games at home. Step by step and game by game. The best mentality is to accept that our opponent is not going to drop many points.
"Now we have six games, and we know we are closer."
The City boss also lauded Julian Alvarez, who scored their winning goal at Craven Cottage. The Argentine collected Riyad Mahrez's pass and curled a brilliant 25-yard strike into the top corner.
"If you play almost all the games to be world champion with Argentina, it is because he has something unique," added Guardiola.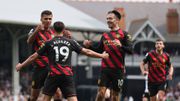 As City reclaimed the top position, Erling Haaland managed to match a long-standing record in the Premier League.
"It is something in the future to make both he and Kevin [De Bruyne] play. In some games, we will come up against defenses with five, so this will be important. He has the vision, it is not just about scoring goals."
City aim to become English champions for the fifth time in six seasons as they also chase the FA Cup and Champions League glory.