Winfred Yavi switched her allegiance from representing Kenya to Bahrain in 2016 and she has come out to explain the reasons behind her decision.
Kenyan-born Bahraini Winfred Yavi has shared the reason why she chose to switch her allegiance.
The reigning World champion explained that she was bidding to represent Kenya for the longest time but did not get the chance so she opted for Bahrain. She revealed that she had been going for the trials and trying her luck but things were not working out well for her since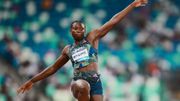 The Nigerian ended her 2023 season at the Prefontaine Classic in Eugene, USA and she is now going to chop her money peacefully.
"I didn't get the chance to represent Kenya…I used to go to trials and I wasn't always able to qualify. When I got the chance to compete for Bahrain, I took it but I always wanted to run for my country," Yavi explained as per Mungai Eve Media.
The Diamond League Trophy winner shared that the competition was stiff and qualifying at the time was an uphill task for her.
She recalled in 2016, she missed out on the chance to compete at the Youth Games after finishing third and only two athletes in each category were being selected.
"The competition was stiff and in Kenya, we always have a lot of athletes. In most cases, only two athletes are always selected for the major events. I was ready to represent Team Kenya but I always missed out most of the time.
I remember in 2016 when I missed out…it pained me a lot. I had done my training very well and I was hopeful of a better outcome but the results did not come. That's how I got the chance to run for Bahrain," she said.
She added that her teammates used to motivate her to do better all the time. She noted that she worked hard secretly and her efforts paid off well.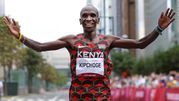 The legendary 38-year-old marathoner has revealed he "cannot wait" for the Berlin race on Sunday.
She added that she respects world record holder Beatrice Chepkoech and she will forever remain to a big sister to her.