Ferdinand Omanyala has responded to fans who expressed worry about him running a total of 39 races in 2023.
Reigning Commonwealth Games champion Ferdinand Omanyala is confident that his management will rectify the mistakes they made in the 2023 season as they head to the Olympics season.
One of the major concerns Omanyala's fans had was that he ran a lot of races this season and that might have affected his prowess in running at the World Championships where he faded to finish seventh.
This season, Omanyala ran more than 30 races, something that is very unusual for sprinters.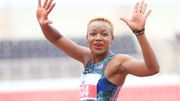 In her eight years of being an athlete, Omanyala's fiancee Laventa Amutavi has shared one of the most valuable lessons.
"I ran a total of 39 races…This comes down again to my management. You know there are those races that we had agreed not to do but ended up doing them but now I realised the competition is at the Diamond League and Continental Tour Gold but we ended up doing races that added no impact," he said.
"Everything is a learning experience for me and I would say the last two seasons have been a learning curve for me but now, there is no more learning next season. We want to get there experienced and we want to apply it at the Olympics," he added.
Meanwhile, Africa's fastest man also noted that there are a lot of lessons he is learning from the delayed 2020 Tokyo Olympics where he was knocked out in the semi-final.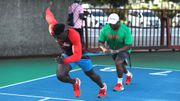 Many fans might be wondering who Ferdinand Omanyala's new coach, Geoffrey Kimani, is, and here is a look into what he has achieved so far.
He explained that he knows what he will be doing ahead of the Olympics and one of the ways to achieve his targets will be signing up for competitive races.
"We don't have a plan yet but we shall know all that as we start the season," Omanyala said.
He also lauded the Ministry of Sports for the support they have accorded him during the 2023 season.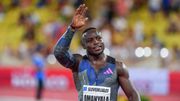 Ferdinand Omanyala has changed his coach as he gears up for the 2024 busy season.
"The government has supported me and I am glad. In the Olympic season, there is no room for error," he said.
Follow the Pulse Sports Kenya WhatsApp Channel for more news.