The main aim of launching the challenge is to celebrate Kipchoge's historic achievement and continue the NoHumanIsLimited legacy.
Most commonly referred to as the greatest marathoner, Eliud Kipchoge returned to the iconic tree-lined Prater in Vienna to unveil the first set of INEOS 1:59 Pace Challenge posts.
The iconic posts symbolize Kipchoge's remarkable achievement where he shattered one of the greatest sporting barriers to complete the world's first sub-two-hour marathon and proved that No Human is Limited.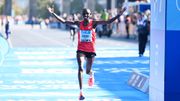 In his marathon debut, Vincent Kipkemboi finished second in a Personal Best time behind Eliud Kipchoge at Sunday's Berlin Marathon.
He made history by becoming the first man to run a sub-two-hour marathon. However, the record was not ratified since it did not meet all the World Athletics rules.
Specifically, it was not an open event and Kipchoge was handed fluids by his support team throughout the run.
The was a featured pace car and the race included rotating teams of other runners pacing Kipchoge in a formation designed to reduce wind resistance and maximise efficiency.
However, the achievement was recognised by Guinness World Records with the titles 'Fastest marathon distance (male)' and 'First marathon distance run under two hours'.
Meanwhile, the INEOS 1:59 Pace Challenge, which was created by Sir Jim Ratcliffe as part of the legacy of the sub-two-hour marathon, is a global running challenge open to all where participants will aim to complete 352.6m in under 1 minute, representing the speed at which Kipchoge covered the marathon distance.
Physical posts will be located around the world, with the first installed in Vienna, alongside a digital challenge which will be launched globally on October 12.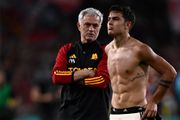 Frustr ated Roma fans have sent a clear message to Jose Mourinho and his boys to 'show some balls' after being humiliated by Genoa.
Sir Jim Ratcliffe: "By breaking the 2-hour marathon barrier, Kipchoge has proven to the world that people can excel when challenged.
Our ambition is that through Eliud and the legacy of the INEOS 1:59 Pace Challenge, we will inspire generations to remove the barriers they place on themselves and believe that No Human Is Limited."
The two-time Olympic Champion said: "The INEOS 1:59 Challenge has a special place in my heart since then I have experienced that many people felt inspired to either start running or to take off the brakes in their heads and achieve what they want to achieve.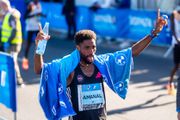 Petros clocked 2:04:48 to break the German marathon record, thanks to his sacrifice to train in Kenya.
I like to inspire people through running, therefore I ask runners to take on the challenge to run my pace from the 1:59 challenge."