Harambee Starlets secured a dominant victory over Cameroon and Mary Moraa was among the cheering squad.
Reigning World 800m champion Mary Moraa is surely enjoying her time off the track.
Moraa was at the Nyayo National Stadium on Tuesday afternoon to watch Harambee Starlets play against Cameroon. She was also lucky to have witnessed the formidable Starlets sail into the second round of the 2024 Women's Africa Cup of Nations qualifiers.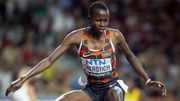 Faith Cherotich's hard work has paid off since she ended her track season with millions in her account.
Team Kenya beat Cameroon 4-3 on post-match penalties to secure a 5-4 aggregate win that propelled them into the next stage of the competition.
The former World 800m silver medallist took to her Facebook page to laud the young ladies for their dominant play that saw them carry the day.
She said: "Was on the ground to cheer the national women's football team, Harambee Starlets, to victory against the Indomitable Lionesses from Cameroon. Congratulations on your 4-3 (1-1) victory.
Starlets now face Botswana in the second and final round of the Women's Africa Cup of Nations qualifiers."
The Lionesses were off to a strong start, however, the first half ended without any goals. This left Cameroon with the advantage as they entered the final 45 minutes.
However, substitute Cynthia Shilwatso delivered a stunning free-kick that found the back of the net in the final quarter of the game.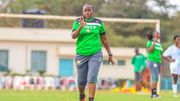 Odemba reveals strategic decisions and team spirit as key factors behind Harambee Starlets' thrilling win against Cameroon.
With the score level at 1-1 on aggregate, the match was destined to be decided by a penalty shootout where Kenya dominated.