The Liverpool forward's father has been rescued from a kidnapping in Colombia after a shootout that left two of his abductors dead, hours after his mother was also rescued
Luis Diaz's dad has reportedly been rescued from a kidnapping during a shootout which left two of his captors dead hours after the footballer's mum was freed from her ordeal, the Mail Online reports.
The search had continued for Luis Manuel Diaz after Cilenis Marulanda was rescued following a police chase triggered by the kidnap of the Liverpool star's parents on Saturday afternoon near their home in the town of Barrancas in Colombia's Caribbean region.
Reports in local media in the La Guajira region, which Barrancas forms part of, say the striker's dad has now been freed following a shootout with police which resulted in the deaths of two of the four kidnappers.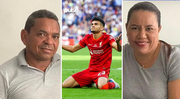 The Liverpool forward's mother is reported to have been rescued but his father is still missing following the kidnapping by armed men on a motorcycle
The incident is said to have happened near to an area called Los Barrancones as the captors headed towards Colombia's border with Venezuela with the intention of smuggling him into the neighbouring country.
There has not yet been any official confirmation Luis Diaz's dad has also been rescued. His mum was pictured overnight enjoying a tearful reunion with relatives.
The reports emerged as a man described as the best friend of Luis Manuel Diaz told a Colombian radio station the footballer's dad and his wife had been heading to the home of a relative of Cilenis near a petrol station where they had just filled up their car with fuel when they were taken hostage.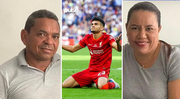 Luis Diaz' mother was rescued from kidnappers in Colombia, but police continue the search fro the Liverpool forward's father, who was also abducted
"It was 5.30pm local time on Saturday. They had filled up with petrol and then went to a neighbourhood nearby to collect something from a relative of Celinis," Victor Medina said, as reported by Mail Online.
"There the captors arrived, four men on motorbikes. They threatened them with weapons, made them get into the same vehicle and sped off with the other two on a motorbike tailing them. They headed for a rural area. The authorities were informed and there was a chase."
Responding to claims there was an exchange of gunfire before Cilenis was rescued, Mr Medina said: "I haven't had the chance to speak to her yet. It's a difficult situation. She's back at home with doctors because we know she arrived quite distressed after what has been a trauma for her."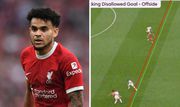 Audio recording of the VAR decision to rule out the Luis Diaz goal for Liverpool against Tottenham has been released to the public.
"We're just waiting for everything to calm down a bit before we speak with her."