Asike had not kicked a ball competitively in over a year due to contractual issues with his former Swedish club IF Karlstrad.
Tusker defender Eugine Asike has revealed his relief at being able to kick a ball competitively for the first time in 2022 after an enforced sabbatical owing to contractual issues with his former club Karlstrad in Sweden.
Asike started in Tusker's 1-0 win over Muhoroni Youth at the Ruaraka Grounds, his first appearance for the side since leaving in 2022 after a couple of appearances on the bench since rejoining the club on a short term contract earlier this month.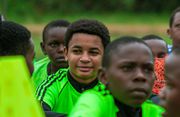 After growing up in Kenya and dazzling with his football skills, the exciting 14-year-old attacking midfielder managed to earn a trial at English club Bristol City.
The towering Kenyan international looked assured as he was partnered next to Mike Kibwage,managing to keep Collins Neto tamed.
Speaking after the match, Asike revealed that it was "a good feeling" as he helped the side return to winning ways with his contributions.
"It was a really good feeling. I was really looking forward to getting the win just to come back and bring a positive impact to the team," Asike told Pulse Sports.
"I felt good we were able to get the maximum points, so we built up from that. Of course we had our own mistakes but it is something that we can improve on, those are the positives out of this game.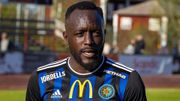 Asike returns to the brewers from IF Karlstad Fotboll and aims to contribute experience for positive results in the FKF Premier League.
"We look forward to the next game, it is game by game but it was a good feeling coming back from home and wearing the yellow feeling, so to top it up with the three points is a good feeling."
Quizzed about whether he can kickstart his career back with the 1994 CAF Cup Winners' Cup finalists, Asike revealed he has the "hunger" to get back to the level he showed when he was named the league's defender of the year in the 2020/2021 season.
"First of all, I still believe I have the hunger in me that I can step it up a notch but I still believe I can step it up a notch and get to my level best, so it is game by game," Asike said.
The defender, who has been training with Tusker for the better part of a year, has revealed that training with the side in efforts to secure a contract, albeit short-term, fueled his desire to keep working hard, which earned him a move back to the side.
"To be honest, training has helped me just keep fit and working in the gym, it has really kept me disciplined and focused so once I was told that you are going to come in and play, bear in mind I did not have a full preseason as the side jetted to Tanzania.
"I was training by myself, coming in, giving my best and getting these three points I believe was a good start for me but a lot of work to put in, but it is game by game."
Asike has earned three caps for Kenya.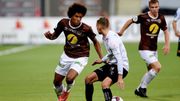 Scriven made a statement after netting a brace for Hodd, while Linton Maina's Koln are still searching for their first Bundesliga win of the season.