The Ingwe captain speaks about what it is like to work under the former Simba coach.
AFC Leopards captain Eugene Giovanni Mukangula has given his honest opinion on what it is like to play under head coach Patrick Aussems, and what it is like to be captain of the club.
Mukangula signed for Ingwe from Thika United and has spent five years at the club. Under head coach Patrick Aussems, he became club captain.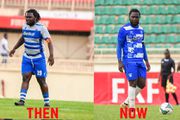 Mukangula's dramatic weight gain had caused a stir of murmurs amongst concerned fans.
Speaking to Pulse Sports, Mukangula said it is "a privilege" to work under the Belgian tactician, someone he describes as a "good person" for trusting and sticking by him when he was going through a difficult time with regards to his weight.
"It is a privilege to play under coach Aussems. I have learned a lot under him. He is a good person in my opinion. Considering the situation I was in from a health and personal perspective, it is very difficult to have someone to trust you to handle some responsibilities," Mukangula said.
"For someone to trust you regardless of the weight you have because of the capability you have and give you the opportunity to rectify your situation, it shows the kind of person he is."
Mukangula also gave his thoughts on what it means to captain Leopards, a team considered by many to have the largest support base in Kenya.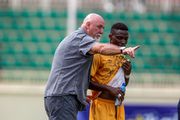 Patrick Aussems is rumoured to leave Ingwe at the end of the season.
"Captaining AFC Leopards is not easy and carries a lot of weight in itself. You are held accountable for some things you don't even know how you will answer.
"However, you have to be able to push yourself as well as others. All in all, It is a privilege to be captain though, and a big milestone in my career."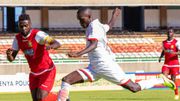 After countless draws between the two sides the Soldiers squeezed a victory over Police in their last meeting.
AFC Leopards were bundled out of the FKF Cup semi-final which blew their hopes of qualifying for next season's CAF Confederations Cup. They will be facing Nairobi City Stars on Monday afternoon as they attempt to finish as high as possible in the league.