The testers were on the ground for the Delhi State Athletics Championships but athletes did not take the news lightly and they escaped.
It was a shocking Tuesday in India for the athletics fraternity after athletes escaped at the sight of dope testers during the final day of the Delhi State Athletics Championship at the Jawaharlal Nehru Stadium.
As reported by Indian Express, only one athlete was left to compete in the 100m final. They also reported that there was a steeplechase athlete who kept running after crossing the finish line to evade dope testing.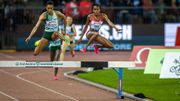 The Kenyan-born Bahraini has beaten Beatrice Chepkoech in all their races in 2023.
There were also several winners who skipped the medal ceremony as they were worried about being asked to give samples.
The number of participants fell by half as news spread that National Anti-Doping Agency (NADA) officials had dropped in, a day after a purported video clip of the washroom at the stadium showed piles of used syringes.
"We have eight finalists in the track events, but only three or four turned up (on Tuesday). This is the state of affairs. In the junior steeplechase event.
A girl continued to run even after crossing the finish line. A doping control officer had to chase her to get her sample," a senior coach told Indian Express.
It was reported that Lalit Kumar was the lone athlete at the starting blocks of the men's 100m final while the rest seven said they were suffering from 'cramps' or 'muscle strain'.
"I was really looking forward to running against the best athletes, but nobody turned up. Everyone was scared of getting tested. As an athlete, I feel very hurt and let down," Kumar said.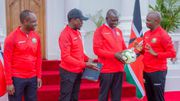 D-Day arrives as Kenya, Tanzania, and Uganda's joint "Pamoja" bid awaits decision for hosting the 2027 Africa Cup of Nations.
"It's the first time I saw a 100m event with just one participant. As soon as the NADA officials arrived, the number of participants dropped to 50%," an official also told the newspaper.