Richardson will be taking her off-season seriously as she improvises tactics on how to stop Shericka Jackson's reign in the 200m next season.
With the track and field season coming to an end, there are a lot of lessons Sha'Carri Richardson has learned and she will be looking to bounce back better next season.
Richardson has big plans concerning the 200m, and in particular, she has plans to beat Jamaica's Shericka Jackson who has mastered the art of the half-lap race.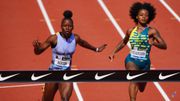 World 100m champion Sha'Carri Richardson could only finish fourth in Eugene on Saturday but she feels the defeat is just what she needed ahead of the grueling 2024 season
Jackson is the fastest woman alive in the 200m and overall, she comes second behind the late Florence Joyner who is the world record holder. The American, however, will be planning to stop Jackson's reign in the category as they gear up for next year.
Her compatriot, Gabby Thomas has also proven to be a force to reckon with and she will definitely be on fire next season.
"There are so many amazing ladies in the 200m at the moment and as you can also see the second fastest woman in the 200m is also running.
"I have to bring my A game lining up against her and I know all the other ladies will also want to be great and they will pull out for their goals.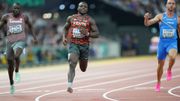 Omanyala has earned good money from the Diamond League Meetings with his podium finishes and the Prefontaine Classic also offered him more money thanks to his hard work.
"I want to be competitive…I want to be that athlete who wins the 100m and 200m and I want all of you to see that. I'm excited for next year," she said.
Richardson has been in impeccable form this season, running the 100m smoothly and only losing once, where she finished second at the Gyulai István Memorial, a Hungarian Athletics Grand Prix.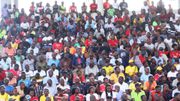 Tore Bobe may have not won on Saturday but their fans backed them massively yet again, raking in more money for the club
However, the 200m has been challenging for her and she was beaten by Jackson at the World Championships where she was forced to settle for third place. Thomas took second place in the race.
However, next year she has promised her fans a better show in both the 100m and 200m.