The 28 year-old mother of one has won all titles on the track in her preferred races.
It all started when Faith Kipyegon broke the 1500m world record at the Diamond League Meeting in Florence, Italy and she has never looked back.
In less than a week, Kipyegon successfully broke the 5000m world record at the Diamond League Meeting in Paris, France before attacking the One Mile world record in Monaco.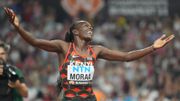 Lately, the 23-year-old has not shied away from showing the world the man behind her never-ending smile.
Her recent feats have been winning double gold in the 1500m and 5000m at the just concluded World Championships in Budapest, Hungary.
Speaking after landing at the Jomo Kenyatta International Airport on Monday night, Kipyegon said: "First of all, this warm reception back home makes me want to do more and win more medals for my country.
I have achieved a lot so far this year and it gives me the motivation to empower young girls out there to know that everything is possible in life.
I wake up early in the morning keeping in mind that I have a group of youths following my footsteps and want me to be their role model."
The double world champion added that she wants to slowly graduate and, in the future, hopefully compete in the marathon.
Kipyegon also noted that she will be keen to compete at next year's Paris Olympic Games where she intends to make history by becoming the first woman to win three titles.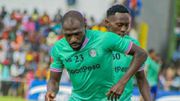 The departing coach achieved significant milestones, including a top-four finish and reaching the second qualifying round of the CAF Confederation Cup.
"I don't know the events I will compete in in Paris…but I certainly know that I want to make history by winning three gold medals. What men can do, women can do better," she said.