Letsile Tebogo is currently basking in glory after winning silver in 100m and bronze in 200m at the World Championships and his mother has given an insight into his recipe for success
Botswana sprint sensation Letsile Tebogo is currently basking in glory after making history at the just-concluded 2023 World Athletics Championships in Budapest, Hungary where he won silver in 100m and bronze in 200m.
Tebogo became the first African runner in history to win a World Championship medal in 100m while he is also the first ever athlete from Botswana to medal at the global event.
At just 20, Tebogo owes his success to his mother Seratiwa Tebogo who raised him up as a single parent and has been with him through every step of his young career.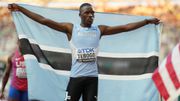 The youngster finished second behind America's Noah Lyles after he clocked 9.88 to cross the finish line.
"You pray for him not to get a false start, that he doesn't get a muscle pull. So, you don't really get to concentrate fully on the race because you will be praying for his success. It's quite a mixture of feelings," Seratiwa told the BBC on how she felt when her son 100m silver in Budapest.
A hyperactive child, Seratiwa says she realised her child was good in sport at a young age and stopped forcing him to become an 'A-student' and instead focused on his running career which has seen her travel around the world as a result.
"Even when he was still in primary school, I went as far as Namibia. I was in Oregon [for last year's World Championships]. I've been to quite some places," she added.
"Budapest is such a peaceful place. People are so helpful and so jolly, and the country is beautiful. Most of these places like Budapest we never even knew existed. It's such a privilege."
Just like most young adults, the 20-year-old likes to indulge in junk food but with his career demanding a strict diet, Seratiwa has had to feed her son on the country's staple, which seems to be working wonders.
"He likes junk food, but because of the status that he's in, he has really reduced so much of it. He's mostly trained to go on our staple organic foods like mabele [a sorghum porridge]," she added.
Seratiwa has spent years washing her son's training kit, making sure he is well fed while sacrificing her own travel plans with friends but she is happy that the investment is finally paying off.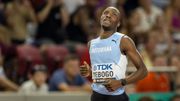 During the final of the 100m on Sunday night, Africa's fastest man Ferdinand Omanyala faded to finish seventh.
Budapest was the first time the World U20 100m champion and record holder was featuring at senior level and delivered in the 100m where Namibia's Frankie Fredricks and South Africa's Akani Simbine had failed before.
Tebogo clocked 9.88 to win sliver in 100m behind American Noah Lyles (9.83) with Great Britain's Zharnel Hughes (9.88) completing the podium, before he timed 19.81 for bronze in 200m, a race won by Lyles (19.52) followed by his compatriot Erriyon Knighton (19.75).