The experienced tactician believes Malkia Strikers would not have been African champions had they prepared at home after being forced to train under poor conditions
Malkia Strikers coach Paul Bitok believes the team would not handed ended their eight-year drought for an African title and sealed their place at the 2024 Paris Olympics had they prepared for the CAVB Africa Nations Championships in Kenya.
Kenya reclaimed the continental title they had last won in 2015 following a 3-0 (25-22, 25-20, 25-14) thrashing of Egypt in the final last weekend, having dislodged holders Cameroon in the semi-final, to close in on an Olympics ticket.
Malkia Strikers were untouchable in the entire competition and dropped just two sets in the eight matches they played. Kenya's preparations were boosted by a three-week High-Performance Training Camp in Morocco which was funded by the sport's global governing body FIVB which also dispatched Brazilian coaches, led by Luizomar de Moura, to the team.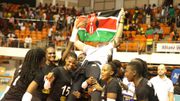 In their highly anticipated final on Friday, August 24, against Egypt, they reigned supreme to also bag the maximum points.
Explaining how the FIVB initiative aided their path to glory, Bitok took great exception with the Kenyan authorities for frustrating their efforts by forcing them to train under poor conditions when the country has capable facilities.
"To get a training venue here in Kenya is a problem, to have allowances for the players, training camp is a big problem when we usually have it here in Kenya," Bitok told NTV.
"This time when we got the sponsorship from the world body, we are away from home, we have the best conditions, the arena for training and also strength training and also the experts from Brazil who were working with us, so it was a combined effort to change the team.
"Now, we were running Malkia Strikers as a professional team, it is no longer a local team and if you go by the results we had in Cameroon, there is a lot of difference between us and other African countries, including Cameroon who were the defending champions.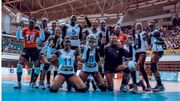 Three players were feated after Kenya ended their eight-year wait for a continental title when they thrashed Egypt 3-0 (25-22, 25-20, 25-14).
"When we started training before going to Morocco, we were training at a basketball arena and it was very difficult even to get the money to pay the arena not even talk about Kasarani."
Bitok then revealed how the Kasarani Indoor Arena has become a 'no-go zone' for national teams who are required to pay huge fees to access it when preparing to represent the country in international competitions.
"Kasarani is just a business where a national team cannot be allowed to train at. Having been in Rwanda for 10 years, anything to do with the arena for the national team, we were not even asking for permission. When you give out your programme, you just continue with training," he added.
"But here, it is impossible, you could see me tying a rope made from a car tyre to make a court in the basketball hall at Nyayo Stadium. This is the only solution that we had but I thank FIVB (for) coming in, also government came in but it was too late. Had we waited for them, maybe we could not have had these kind of results.
"There are basic things that I will request the Minister to please allow the arena to be used any time that we have a major competition coming up. Up to now, it is more than 10 years we have not hosted any major competition because we cannot afford. You have to pay like Ksh80,000 to use the arena in Kasarani."
At the African Championships in Cameroon, Malkia Strikers beat Rwanda 3-0 in their opening game, downed Uganda by the same margin, won 3-1 against Morocco and trounced Lesotho 3-0 to end the group stage in style.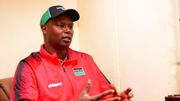 The highly experienced coach secured a resounding victory in Saturday's election and now wants to ensure there are proper structures to professionalise volleyball in Kenya
They then thrashed Nigeria 3-0 (25-14,25-1,25-11) in the quarter-final before beating Cameroon 3-1 (25-27, 25-14, 25-11, 25-18) in the semis to set up the final date with Egypt.