He added that he is keen on making a mark and becoming one of the best Judokas the world will ever know.
Regan Mwandi Wali, a 19-year-old Judoka, is burning the midnight oil to ensure he changes his lifestyle and that of his parents courtesy of the sport.
The Malindi-based Judoka revealed that so far, engaging in the sport has enabled him to clear his fee areas and also raise the standards of living of his parents among other things. He revealed that his interest in the sport began when he was very young and he became intentional about nurturing it.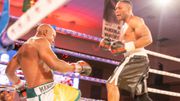 The Kenyan boxer is seeking another opportunity to teach 'Mtu Kazi' more lessons following Saturday's victory via a unanimous decision
During an exclusive interview with Pulse Sports Kenya, Wali disclosed that the sport has also enabled him to keep fit and shun drug abuse and being misled by other youth.
"I started Judo when I was a kid…I was in Class Three at the time. I used to watch people play and I became interested. I started looking for coaches who would help me and that's how I slowly perfected my skills.
So far, the sport has really helped to change a lot in my life. When I compete in some events, I get paid and I am able to pay my school fees. I am also able to support my parents who have businesses," he said.
He added that he is keen on making a mark and becoming one of the best Judokas the world will ever know. During the interview, Wali was gearing up for the Africa Judo Championships in Madagascar and he shared that he must bring back home a medal.
He added that he prides himself in playing for the national team since it is not something easy to make it to Team Kenya.
"We are always determined as Judokas. I'm performing well in Judo and that's why I will always be proud to be in Team Kenya. I have made it to the national team severally and it's something I don't take for granted.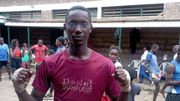 Okuku also revealed that he wants to be the future Israel Adesanya who is a two-time UFC Middleweight champion.
When I go to the Africa Championships, I want to improve my performance. I want to put in more effort and finish in the podium bracket. I want to win a gold medal for my country," he said.
He added that challenges come in when he is required to balance between training and school work but he has since learnt to balance between the two and things are becoming better for him.